---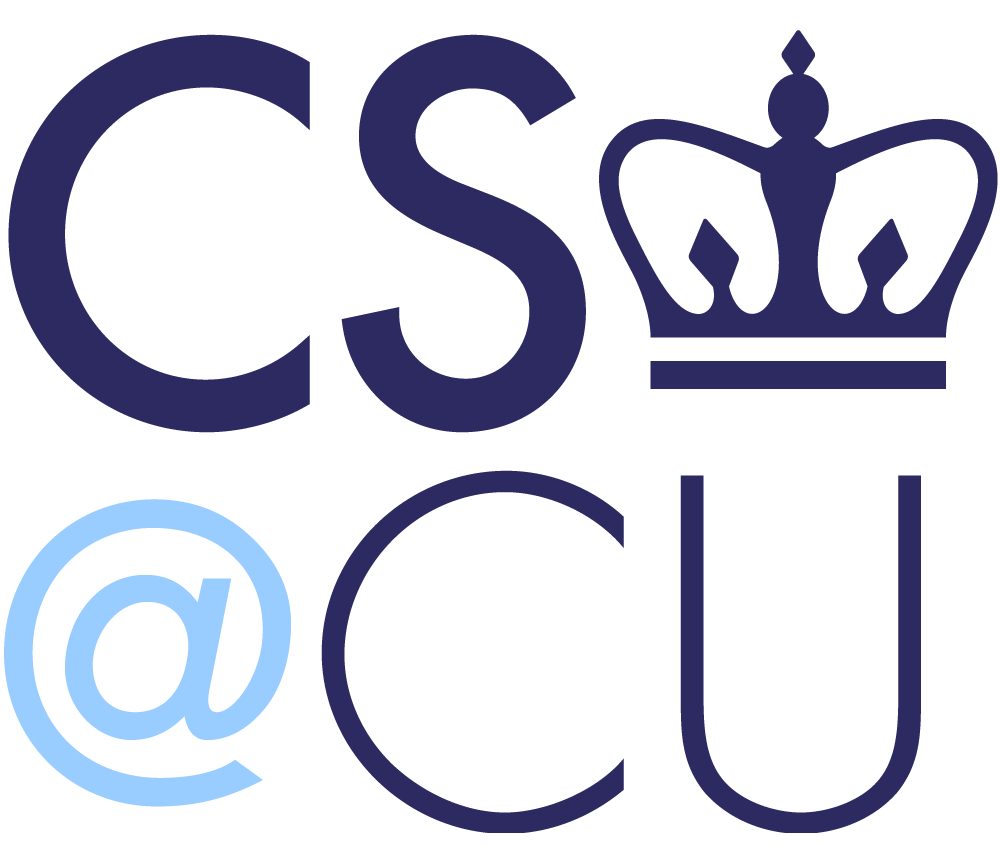 Information about COMS Courses
Important Note for Non-CS/CE Students Regarding Registration: As more non-CS majors wish to enroll in Computer Science classes, the department will add courses specifically designed to make Computer Science accessible to the broader student population. Until then, we will open our standard COMS courses to students in other departments during the Change of Program period.
---
Topics Course Descriptions
Fall 2023 additions can be found on the Topics Page listings
---
Intro Courses
Computing in Context (COMS W1002) is a computer science course for non-majors, emphasizing computational methods for text analysis while teaching Python programming. The class combines lectures in basic computer science with lectures and projects applying those methods to multiple disciplines within the liberal arts, including digital humanities, social science, and econ financing. For more information, see It's a Computing Revolution in the Liberal Arts.
Introduction to Computing for Engineers and Applied Scientists (ENGI E1006) introduces computational thinking, algorithmic problem solving, and Python programming with projects designed around applications in science and engineering. Intended for first-year SEAS students.
Emerging Scholars Program (COMS W1404) is a 1-point, pass/fail, semester-long program that concentrates on the collaborative and problem-solving aspects of computer science. Weekly workshops give students an extra opportunity to explore CS-related topics and fields.
---
Previous Years: 2020 - 2021 | 2021 - 2022 | 2022 - 2023 | 2023 - 2024
Course Title
Course Number (Registrar Call #)
Term
Instructor
Day(s)
Time
Location
Computing in Context
COMS W 1002-001
(11194)
Fall 2023
Cannon, Adam H
TR
2:40 PM - 3:55 PM
309 HAV
More Details
Computing in Context
COMS W 1002-002
(11196)
Fall 2023
Cannon, Adam H
TR
2:40 PM - 3:55 PM
326 URI
More Details
Computing in Context
COMS W 1002-003
(11197)
Fall 2023
Cannon, Adam H
TR
2:40 PM - 3:55 PM
313 FAY
More Details
Computing in Context
COMS W 1002-004
(11545)
Fall 2023
Cannon, Adam H
TR
2:40 PM - 3:55 PM
415 CEPSR
More Details
Introduction To Computer Science And Programming In Java
COMS W 1004-001
(11546)
Fall 2023
Blaer, Paul S
MW
2:40 PM - 3:55 PM
309 HAV
More Details
Introduction To Computer Science And Programming In Java
COMS W 1004-002
(11547)
Fall 2023
Blaer, Paul S
MW
5:40 PM - 6:55 PM
417 IAB
More Details
Intro To Comp For Eng/app
ENGI E 1006-001
(11300)
Fall 2023
Bauer, Daniel
MW
10:10 AM - 11:25 AM
417 IAB
More Details
COMPUTING IN CONTEXT REC
COMS W 1012-001
(11548)
Fall 2023
Cannon, Adam H
Th
7:10 PM - 8:00 PM
825 MUDD
More Details
COMPUTING IN CONTEXT REC
COMS W 1012-002
(11198)
Fall 2023
Cannon, Adam H
Fr
10:10 AM - 10:50 AM
825 MUDD
More Details
COMPUTING IN CONTEXT REC
COMS W 1012-003
(11199)
Fall 2023
Cannon, Adam H
Fr
11:00 AM - 11:50 AM
825 MUDD
More Details
COMPUTING IN CONTEXT REC
COMS W 1012-004
(11200)
Fall 2023
Cannon, Adam H
Fr
2:00 PM - 2:50 PM
825 MUDD
More Details
COMPUTING IN CONTEXT REC
COMS W 1012-005
(11201)
Fall 2023
Cannon, Adam H
Fr
9:00 AM - 9:40 AM
825 MUDD
More Details
COMPUTING IN CONTEXT REC
COMS W 1012-006
(11202)
Fall 2023
Cannon, Adam H
Fr
1:00 PM - 1:50 PM
825 MUDD
More Details
COMPUTING IN CONTEXT REC
COMS W 1012-007
(11203)
Fall 2023
Cannon, Adam H
Th
7:10 PM - 8:00 PM
327 MUDD
More Details
COMPUTING IN CONTEXT REC
COMS W 1012-008
(11204)
Fall 2023
Cannon, Adam H
Fr
1:00 PM - 1:50 PM
337 MUDD
More Details
COMPUTING IN CONTEXT REC
COMS W 1012-009
(11205)
Fall 2023
Cannon, Adam H
Th
7:10 PM - 8:00 PM
306 URI
More Details
COMPUTING IN CONTEXT REC
COMS W 1012-010
(11206)
Fall 2023
Cannon, Adam H
Fr
11:00 AM - 11:50 AM
337 MUDD
More Details
Dev Tech
COMS W 3102-001
(17021)
Fall 2023
Stolfo, Emily
Mo
6:10 PM - 8:00 PM
750 CEPSR
More Details
Clean Object-Oriented Design
COMS W 3107-001
(11207)
Fall 2023
Kender, John R
MW
4:10 PM - 5:25 PM
633 MUDD
More Details
Data Structures in Java
COMS W 3134-001
(11208)
Fall 2023
Borowski, Brian S.
MW
4:10 PM - 5:25 PM
301 URI
More Details
Data Structures in Java
COMS W 3134-002
(11209)
Fall 2023
Borowski, Brian S.
MW
5:40 PM - 6:55 PM
301 URI
More Details
ESSENTIAL DATA STRUCTURES IN C/C++
COMS W 3136-001
(11210)
Fall 2023
Paine, Timothy
TR
5:40 PM - 6:55 PM
451 CSB
More Details
Advanced Programming
COMS W 3157-001
(11211)
Fall 2023
Lee, Jae Woo
TR
2:40 PM - 3:55 PM
301 PUP
More Details
Advanced Programming
COMS W 3157-002
(11212)
Fall 2023
Lee, Jae Woo
TR
5:40 PM - 6:55 PM
301 PUP
More Details
Discrete Mathematics: Introduction To Combinatorics and Graph Theory
COMS W 3203-001
(11213)
Fall 2023
Dear, Tony
MW
2:40 PM - 3:55 PM
301 PUP
More Details
Discrete Mathematics: Introduction To Combinatorics and Graph Theory
COMS W 3203-002
(11214)
Fall 2023
Dear, Tony
MW
4:10 PM - 5:25 PM
428 PUP
More Details
Computer Science Theory
COMS S 3261-001
(11215)
Fall 2023
Pitassi, Toniann
MW
8:40 AM - 9:55 AM
451 CSB
More Details
Computer Science Theory
COMS S 3261-002
(11216)
Fall 2023
Pitassi, Toniann
MW
10:10 AM - 11:25 AM
451 CSB
More Details
Computers and Society
COMS W 3410-001
(11217)
Fall 2023
Baecker, Ronald
Tu
5:30 PM - 8:00 PM
750 CEPSR
More Details
Fundamentals of Computer Systems
CSEE W 3827-001
(11287)
Fall 2023
Kim, Martha A
TR
11:40 AM - 12:55 PM
309 HAV
More Details
Fundamentals of Computer Systems
CSEE W 3827-002
(11288)
Fall 2023
Kim, Martha A
TR
1:10 PM - 2:25 PM
309 HAV
More Details
Fieldwork
COMS W 3999-005
(14378)
Fall 2023
Andoni, Alexandr
-
More Details
Fieldwork
COMS W 3999-006
(14381)
Fall 2023
Bauer, Daniel
-
More Details
Fieldwork
COMS W 3999-007
(14382)
Fall 2023
Belhumeur, Peter N
-
More Details
Fieldwork
COMS W 3999-008
(14383)
Fall 2023
Bellovin, Steven M.
-
More Details
Fieldwork
COMS W 3999-009
(14400)
Fall 2023
Elhadad, Noemie
-
More Details
Fieldwork
COMS W 3999-010
(14384)
Fall 2023
Blaer, Paul S
-
More Details
Fieldwork
COMS W 3999-011
(14385)
Fall 2023
Blei, David
-
More Details
Fieldwork
COMS W 3999-012
(14389)
Fall 2023
Cannon, Adam H
-
More Details
Fieldwork
COMS W 3999-013
(14390)
Fall 2023
Carloni, Luca
-
More Details
Fieldwork
COMS W 3999-014
(14391)
Fall 2023
Chaintreau, Augustin
-
More Details
Fieldwork
COMS W 3999-015
(14393)
Fall 2023
Chen, Xi
-
More Details
Fieldwork
COMS W 3999-016
(14431)
Fall 2023
Pitassi, Toniann
-
More Details
Fieldwork
COMS W 3999-017
(14398)
Fall 2023
Drinea, Eleni
-
More Details
Fieldwork
COMS W 3999-018
(14399)
Fall 2023
Edwards, Stephen A.
-
More Details
Fieldwork
COMS W 3999-020
(14401)
Fall 2023
Feiner, Steven K
-
More Details
Fieldwork
COMS W 3999-021
(14402)
Fall 2023
Geambasu, Roxana
-
More Details
Fieldwork
COMS W 3999-022
(14403)
Fall 2023
Gravano, Luis
-
More Details
Fieldwork
COMS W 3999-023
(14459)
Fall 2023
Zemel, Richard
-
More Details
Fieldwork
COMS W 3999-024
(14406)
Fall 2023
Hirschberg, Julia B.
-
More Details
Fieldwork
COMS W 3999-025
(14408)
Fall 2023
Hsu, Daniel J
-
More Details
Fieldwork
COMS W 3999-026
(14409)
Fall 2023
Jana, Suman
-
More Details
Fieldwork
COMS W 3999-027
(14377)
Fall 2023
Alman, Josh
-
More Details
Fieldwork
COMS W 3999-028
(14410)
Fall 2023
Kaiser, Gail E
-
More Details
Fieldwork
COMS W 3999-029
(14412)
Fall 2023
Kender, John R
-
More Details
Fieldwork
COMS W 3999-030
(14445)
Fall 2023
Song, Shuran
-
More Details
Fieldwork
COMS W 3999-031
(14413)
Fall 2023
Kim, Martha A
-
More Details
Fieldwork
COMS W 3999-032
(14417)
Fall 2023
Lee, Jae Woo
-
More Details
Fieldwork
COMS W 3999-033
(14419)
Fall 2023
Malkin, Tal G
-
More Details
Fieldwork
COMS W 3999-034
(14420)
Fall 2023
McKeown, Kathleen
-
More Details
Fieldwork
COMS W 3999-035
(14421)
Fall 2023
Misra, Vishal
-
More Details
Fieldwork
COMS W 3999-036
(14425)
Fall 2023
Nayar, Shree K
-
More Details
Fieldwork
COMS W 3999-037
(14426)
Fall 2023
Nieh, Jason
-
More Details
Fieldwork
COMS W 3999-038
(14375)
Fall 2023
AlQuraishi, Mohammed
-
More Details
Fieldwork
COMS W 3999-039
(14429)
Fall 2023
Pe'er, Itsik G
-
More Details
Fieldwork
COMS W 3999-040
(14436)
Fall 2023
Ross, Kenneth A
-
More Details
Fieldwork
COMS W 3999-041
(14438)
Fall 2023
Rubenstein, Dan
-
More Details
Fieldwork
COMS W 3999-042
(14439)
Fall 2023
Salleb-Aouissi, Ansaf
-
More Details
Fieldwork
COMS W 3999-043
(14441)
Fall 2023
Schulzrinne, Henning G
-
More Details
Fieldwork
COMS W 3999-044
(14442)
Fall 2023
Servedio, Rocco A.
-
More Details
Fieldwork
COMS W 3999-045
(14443)
Fall 2023
Sethumadhavan, Simha
-
More Details
Fieldwork
COMS W 3999-046
(14447)
Fall 2023
Stolfo, Salvatore J
-
More Details
Fieldwork
COMS W 3999-047
(14387)
Fall 2023
Blumberg, Andrew
-
More Details
Fieldwork
COMS W 3999-048
(14454)
Fall 2023
Wu, Eugene
-
More Details
Fieldwork
COMS W 3999-049
(14455)
Fall 2023
Yang, Junfeng
-
More Details
Fieldwork
COMS W 3999-050
(14456)
Fall 2023
Yannakakis, Mihalis
-
More Details
Fieldwork
COMS W 3999-051
(14460)
Fall 2023
Zheng, Changxi
-
More Details
Fieldwork
COMS W 3999-052
(14437)
Fall 2023
Roughgarden, Tim
-
More Details
Fieldwork
COMS W 3999-053
(14462)
Fall 2023
Zussman, Gil
-
More Details
Fieldwork
COMS W 3999-054
(14392)
Fall 2023
Chang, Shih-Fu
-
More Details
Fieldwork
COMS W 3999-056
(14424)
Fall 2023
Muresan, Smaranda
-
More Details
Fieldwork
COMS W 3999-057
(14418)
Fall 2023
Lipson, Hod
-
More Details
Fieldwork
COMS W 3999-058
(14423)
Fall 2023
Mueller, Andreas
-
More Details
Fieldwork
COMS W 3999-059
(14396)
Fall 2023
Ciocarlie, Matei
-
More Details
Fieldwork
COMS W 3999-060
(14394)
Fall 2023
Chilton, Lydia B
-
More Details
Fieldwork
COMS W 3999-061
(14427)
Fall 2023
Papadimitriou, Christos H
-
More Details
Fieldwork
COMS W 3999-062
(14450)
Fall 2023
Verma, Nakul
-
More Details
Fieldwork
COMS W 3999-063
(14444)
Fall 2023
Smith, Brian A
-
More Details
Fieldwork
COMS W 3999-064
(14380)
Fall 2023
Bareinboim, Elias
-
More Details
Fieldwork
COMS W 3999-065
(14404)
Fall 2023
Gu, Ronghui
-
More Details
Fieldwork
COMS W 3999-066
(14451)
Fall 2023
Vondrick, Carl
-
More Details
Fieldwork
COMS W 3999-067
(14411)
Fall 2023
Katz-Bassett, Ethan
-
More Details
Fieldwork
COMS W 3999-068
(14435)
Fall 2023
Ray, Baishakhi
-
More Details
Fieldwork
COMS W 3999-069
(14414)
Fall 2023
Knowles, David
-
More Details
Fieldwork
COMS W 3999-070
(14397)
Fall 2023
Dear, Tony
-
More Details
Fieldwork
COMS W 3999-071
(14395)
Fall 2023
Cidon, Asaf
-
More Details
Fieldwork
COMS W 3999-072
(14452)
Fall 2023
Wing, Jeannette M
-
More Details
Fieldwork
COMS W 3999-073
(14434)
Fall 2023
Rambow, Owen C.
-
More Details
Fieldwork
COMS W 3999-074
(14453)
Fall 2023
Wright, Rebecca
-
More Details
Fieldwork
COMS W 3999-075
(14415)
Fall 2023
Krstovski, Kriste
-
More Details
Fieldwork
COMS W 3999-076
(14416)
Fall 2023
Kucukelbir, Alp
-
More Details
Fieldwork
COMS W 3999-077
(14386)
Fall 2023
Blikstein, Paulo
-
More Details
Fieldwork
COMS W 3999-079
(14440)
Fall 2023
Santolucito, Mark
-
More Details
Fieldwork
COMS W 3999-080
(14422)
Fall 2023
Morrison-Smith, Sarah
-
More Details
Fieldwork
COMS W 3999-081
(14457)
Fall 2023
Yu, Zhou
-
More Details
Fieldwork
COMS W 3999-082
(14458)
Fall 2023
Yuen, Henry
-
More Details
Fieldwork
COMS W 3999-083
(14407)
Fall 2023
Horesh, Lior
-
More Details
Fieldwork
COMS W 3999-084
(14388)
Fall 2023
Borowski, Brian S.
-
More Details
Fieldwork
COMS W 3999-085
(14461)
Fall 2023
Zhou, Xia
-
More Details
Fieldwork
COMS W 3999-086
(14379)
Fall 2023
Azizi, Elham
-
More Details
Fieldwork
COMS W 3999-090
(14405)
Fall 2023
Gursoy, Gamze
-
More Details
Fieldwork
COMS W 3999-091
(14428)
Fall 2023
Pappu, Vijay
-
More Details
Introduction to Databases
COMS W 4111-001
(11218)
Fall 2023
Gravano, Luis
TR
1:10 PM - 2:25 PM
301 PUP
More Details
Introduction to Databases
COMS W 4111-002
(11219)
Fall 2023
Ferguson, Donald F.
Fr
10:10 AM - 12:40 PM
417 IAB
More Details
Fundamentals of Large-Scale Distributed Systems
COMS W 4113-001
(11220)
Fall 2023
Geambasu, Roxana
Fr
10:10 AM - 12:40 PM
451 CSB
More Details
Programming Languages and Translators
COMS W 4115-001
(11221)
Fall 2023
Ray, Baishakhi
TR
11:40 AM - 12:55 PM
451 CSB
More Details
Operating Systems, I
COMS W 4118-001
(11222)
Fall 2023
Nieh, Jason
TR
4:10 PM - 5:25 PM
501 NWC
More Details
Engineering Software-as-a-Service
COMS W 4152-001
(11223)
Fall 2023
Yang, Junfeng
TR
8:40 AM - 9:55 AM
833 MUDD
More Details
Advanced Software Engineering
COMS W 4156-001
(11224)
Fall 2023
Kaiser, Gail E
TR
10:10 AM - 11:25 AM
501 NWC
More Details
Computer Graphics
COMS W 4160-001
(11549)
Fall 2023
Fadaifard, Hadi
TR
7:10 PM - 8:25 PM
451 CSB
More Details
User Interface Design
COMS W 4170-001
(11225)
Fall 2023
Smith, Brian A
TR
1:10 PM - 2:25 PM
428 PUP
More Details
Security I
COMS W 4181-001
(11226)
Fall 2023
Jana, Suman
MW
1:10 PM - 2:25 PM
451 CSB
More Details
MALWARE ANALYSIS&REVERSE ENGINEERING
COMS W 4186-001
(11227)
Fall 2023
Sikorski, Michael
Th
4:10 PM - 6:40 PM
825 MUDD
More Details
Analysis of Algorithms I
CSOR W 4231-001
(11294)
Fall 2023
Roughgarden, Tim
TR
8:40 AM - 9:55 AM
451 CSB
More Details
Analysis of Algorithms I
CSOR W 4231-002
(11296)
Fall 2023
Roughgarden, Tim
TR
10:10 AM - 11:25 AM
451 CSB
More Details
Introduction To Computational Complexity
COMS W 4236-001
(11228)
Fall 2023
Yuen, Henry
MW
1:10 PM - 2:25 PM
524 MUDD
More Details
ALGORITHMS FOR DATA SCIENCE
CSOR W 4246-001
(11297)
Fall 2023
Drinea, Eleni
TR
11:40 AM - 12:55 PM
833 MUDD
More Details
ALGORITHMS FOR DATA SCIENCE
CSOR W 4246-002
(11299)
Fall 2023
Drinea, Eleni
TR
1:10 PM - 2:25 PM
329 PUP
More Details
Introduction to Computational Learning Theory
COMS W 4252-001
(11229)
Fall 2023
Servedio, Rocco A.
MW
8:40 AM - 9:55 AM
428 PUP
More Details
Introduction To Cryptography
COMS W 4261-001
(11230)
Fall 2023
Malkin, Tal G
TR
10:10 AM - 11:25 AM
142 URI
More Details
Introduction to Quantum Computing
COMS W 4281-001
(11231)
Fall 2023
Yuen, Henry
MW
11:40 AM - 12:55 PM
326 URI
More Details
Programming and Problem Solving
COMS W 4444-001
(11232)
Fall 2023
Ross, Kenneth A
MW
1:10 PM - 2:25 PM
327 MUDD
More Details
Principles of Innovation and Entrepreneurship (co-instructor: William Reinisch)
COMS W 4460-001
(11233)
Fall 2023
Reinisch, William
Fr
10:10 AM - 12:40 PM
644 MUDD
More Details
Artificial Intelligence
COMS W 4701-001
(11234)
Fall 2023
Salleb-Aouissi, Ansaf
TR
10:10 AM - 11:25 AM
501 SCH
More Details
Artificial Intelligence
COMS W 4701-002
(11235)
Fall 2023
Salleb-Aouissi, Ansaf
TR
11:40 AM - 12:55 PM
501 SCH
More Details
Natural Language Processing
COMS W 4705-001
(11236)
Fall 2023
Bauer, Daniel
MW
1:10 PM - 2:25 PM
309 HAV
More Details
Natural Language Processing
COMS W 4705-002
(11237)
Fall 2023
Yu, Zhou
MW
1:10 PM - 2:25 PM
501 SCH
More Details
Natural Language Processing
COMS W 4705-032
(16894)
Fall 2023
Simion, Andrei A
We
7:00 PM - 9:30 PM
717 HAM
More Details
Computer Vision I: First Principles
COMS W 4731-001
(11238)
Fall 2023
Nayar, Shree K
MW
10:10 AM - 11:25 AM
501 NWC
More Details
Machine Learning for Functional Genomics
COMS E 4762-001
(11239)
Fall 2023
Knowles, David
MW
4:10 PM - 5:25 PM
451 CSB
More Details
Machine Learning
COMS W 4771-001
(11240)
Fall 2023
Hsu, Daniel J
TR
1:10 PM - 2:25 PM
451 CSB
More Details
Machine Learning
COMS W 4771-002
(11241)
Fall 2023
Hsu, Daniel J
TR
2:40 PM - 3:55 PM
451 CSB
More Details
Causal Inference
COMS W 4775-001
(11242)
Fall 2023
Bareinboim, Elias
MW
4:10 PM - 5:25 PM
750 CEPSR
More Details
Computer Architecture
CSEE W 4824-001
(11290)
Fall 2023
Sethumadhavan, Simha
MW
10:10 AM - 11:25 AM
501 SCH
More Details
System-on-Chip Platforms
CSEE W 4868-001
(11291)
Fall 2023
Carloni, Luca
TR
11:40 AM - 12:55 PM
633 MUDD
More Details
Parallel Functional Progr
COMS W 4995-001
(11243)
Fall 2023
Edwards, Stephen A.
MW
5:40 PM - 6:55 PM
633 MUDD
More Details
Design Using C++
COMS W 4995-002
(11244)
Fall 2023
Stroustrup, Bjarne
Fr
10:10 AM - 12:40 PM
608 SCH
More Details
Math Mach Learn Sig Recog
COMS W 4995-003
(11245)
Fall 2023
Beigi, Homayoon
Th
4:10 PM - 6:40 PM
1127 MUDD
More Details
Tech Interview Prep C++
COMS W 4995-004
(11246)
Fall 2023
Lim, Yongwhan
TR
5:40 PM - 6:55 PM
1024 MUDD
More Details
Competitive Programming
COMS W 4995-005
(11247)
Fall 2023
Lim, Yongwhan
Mo
7:00 PM - 9:30 PM
1127 MUDD
More Details
Empirical Methods Data Sc
COMS W 4995-006
(11248)
Fall 2023
Levine, Michelle F
MW
11:40 AM - 12:55 PM
415 CEPSR
More Details
Mobile App Develop Ios
COMS W 4995-007
(11249)
Fall 2023
Thomas, Hugh
TR
4:10 PM - 5:25 PM
451 CSB
More Details
Hacking 4 Defense
COMS W 4995-008
(11250)
Fall 2023
Cahill, Jason
Tu
4:10 PM - 6:40 PM
644 MUDD
More Details
Data-drvn Dsgn Social Inn
COMS W 4995-009
(11251)
Fall 2023
Verma, Nakul
Fr
1:10 PM - 3:40 PM
601 FLS
More Details
Neural Networks Deep Lear
COMS W 4995-010
(11252)
Fall 2023
Zemel, Richard
MW
2:40 PM - 3:55 PM
451 CSB
More Details
Deep Lrng For Comp Vision
COMS W 4995-011
(11253)
Fall 2023
Belhumeur, Peter N
TR
2:40 PM - 3:55 PM
428 PUP
More Details
Applied Machine Learning
COMS W 4995-020
(12881)
Fall 2023
Pappu, Vijay
Tu
4:10 PM - 6:40 PM
833 MUDD
More Details
Applied Machine Learning
COMS W 4995-021
(12882)
Fall 2023
Pappu, Vijay
Th
7:00 PM - 9:30 PM
417 IAB
More Details
Applied Deep Learning
COMS W 4995-031
(16893)
Fall 2023
Simion, Andrei A
Mo
7:00 PM - 9:30 PM
501 NWC
More Details
Operating Systems, II
COMS E 6118-001
(11255)
Fall 2023
Nieh, Jason
Th
2:10 PM - 4:00 PM
337 MUDD
More Details
Topics in Software Engineering
COMS E 6156-001
(11256)
Fall 2023
Ferguson, Donald F.
Fr
1:10 PM - 3:40 PM
417 IAB
More Details
Modeling and performance evaluation
CSEE E 6180-001
(11292)
Fall 2023
Misra, Vishal
Fr
1:10 PM - 3:40 PM
233 MUDD
More Details
ANONYMITY & PRIVACY
COMS E 6184-001
(11257)
Fall 2023
Bellovin, Steven M.
Mo
6:20 PM - 8:10 PM
480 CSB
More Details
Analysis of Algorithms, II
COMS E 6232-001
(11259)
Fall 2023
Yannakakis, Mihalis
We
4:10 PM - 6:00 PM
516 HAM
More Details
Virtual And Augmented Rea
COMS E 6998-001
(11260)
Fall 2023
Feiner, Steven K
We
2:10 PM - 4:00 PM
337 MUDD
More Details
Natural Lang Gen Summariz
COMS E 6998-002
(11261)
Fall 2023
McKeown, Kathleen
We
4:10 PM - 6:00 PM
503 HAM
More Details
Topics In Robotic Learnin
COMS E 6998-003
(11262)
Fall 2023
Song, Shuran
Fr
10:10 AM - 12:00 PM
RTBA BTBA
More Details
Engr Web3 Blockchain Apps
COMS E 6998-004
(11263)
Fall 2023
Yang, Junfeng
Tu
10:10 AM - 12:00 PM
327 MUDD
More Details
Topics In Mobile X
COMS E 6998-005
(11264)
Fall 2023
Zhou, Xia
Fr
1:10 PM - 3:40 PM
627 MUDD
More Details
Readings Language Design
COMS E 6998-006
(11266)
Fall 2023
Stroustrup, Bjarne
Th
12:10 PM - 2:00 PM
327 MUDD
More Details
Fund Speech Recognition
COMS E 6998-009
(11269)
Fall 2023
Beigi, Homayoon
Th
7:00 PM - 9:30 PM
1127 MUDD
More Details
Cloud Computing & Big Dat
COMS E 6998-010
(11270)
Fall 2023
Sahu, Sambit
Mo
6:10 PM - 8:00 PM
451 CSB
More Details
Machine Learning &climate
COMS E 6998-011
(11271)
Fall 2023
Kucukelbir, Alp
Tu
4:10 PM - 6:00 PM
326 URI
More Details
Adv Web Design Studio
COMS E 6998-012
(11273)
Fall 2023
Chilton, Lydia B
Fr
12:10 PM - 2:00 PM
1127 MUDD
More Details
Analysis Of Networks & Cr
COMS E 6998-013
(11275)
Fall 2023
Chaintreau, Augustin
Tu
12:10 PM - 2:00 PM
1127 MUDD
More Details
Robust Controllable Ml
COMS E 6998-014
(11277)
Fall 2023
Zemel, Richard
Th
2:10 PM - 4:00 PM
RTBA BTBA
More Details
Algorithms For Massive Da
COMS E 6998-015
(11279)
Fall 2023
Andoni, Alexandr
MW
2:40 PM - 3:55 PM
633 MUDD
More Details
Formal Verification Syste
COMS E 6998-016
(11281)
Fall 2023
Gu, Ronghui
Th
2:10 PM - 4:00 PM
627 MUDD
More Details
Algebraic Techniques In T
COMS E 6998-018
(11285)
Fall 2023
Alman, Josh
Tu
4:10 PM - 6:00 PM
825 MUDD
More Details
Causal Trustworthy Ai
COMS E 6998-019
(15229)
Fall 2023
Bareinboim, Elias
Mo
6:10 PM - 8:00 PM
327 MUDD
More Details
Topics Cloud Computing
COMS E 6998-020
(15230)
Fall 2023
Kaffes, Kostis
Fr
10:10 AM - 12:00 PM
829 MUDD
More Details
Intro Property Testing
COMS E 6998-021
(15236)
Fall 2023
Chen, Xi
Fr
2:10 PM - 4:00 PM
337 MUDD
More Details
Foundations Data Privacy
COMS E 6998-022
(16561)
Fall 2023
Cummings, Rachel
Fr
10:10 AM - 12:40 PM
326 URI
More Details
Introduction to Information Science
COMS W 1001-001
(11190)
Fall 2023
Cannon, Adam H
TR
11:40 AM - 12:55 PM
330 URI
More Details
Formal Verif HW SW Systems
CSEE E 6863-001
(11293)
Fall 2023
Ivancic, Franjo
We
6:10 PM - 8:00 PM
451 CSB
More Details
Topics In Computer Science, I
COMS E 6998-008
(11268)
Fall 2023
El Maghraoui, Kaoutar
Th
7:00 PM - 9:30 PM
326 URI
More Details
Intrusion Detection Systems
COMS E 6185-001
(11258)
Fall 2023
Seiden, Mark
We
2:10 PM - 4:00 PM
603 HAM
More Details
Special Topics In Computer Science, I
COMS W 4995-013
(20652)
Fall 2023
Zamchick, Gary
Tu
1:10 PM - 3:40 PM
545 MUDD
More Details
Topics In Computer Science, I
COMS E 6998-025
(20663)
Fall 2023
Marino, Kenneth
Fr
4:10 PM - 6:00 PM
451 CSB
More Details
Computational Techniques In Pixel Processing
COMS W 4165-001
(20707)
Fall 2023
Wolberg, George
TR
8:40 AM - 9:55 AM
545 MUDD
More Details
Dev Tech
COMS W 3102-002
(20662)
Fall 2023
Ahamed, Shoaib
Fr
6:10 PM - 8:00 PM
451 CSB
More Details
Emerging Scholars Prog Seminar
COMS W 1404-001
(20584)
Fall 2023
Cannon, Adam H
Fr
8:40 AM - 9:55 AM
413 HAM
More Details
Emerging Scholars Prog Seminar
COMS W 1404-002
(20585)
Fall 2023
Cannon, Adam H
Fr
10:10 AM - 11:25 AM
413 HAM
More Details
Emerging Scholars Prog Seminar
COMS W 1404-003
(20586)
Fall 2023
Cannon, Adam H
Fr
11:40 AM - 12:55 PM
413 HAM
More Details
Emerging Scholars Prog Seminar
COMS W 1404-004
(20587)
Fall 2023
Cannon, Adam H
Fr
1:10 PM - 2:25 PM
413 HAM
More Details
Emerging Scholars Prog Seminar
COMS W 1404-005
(20588)
Fall 2023
Cannon, Adam H
Fr
2:40 PM - 3:55 PM
413 HAM
More Details
Emerging Scholars Prog Seminar
COMS W 1404-006
(20589)
Fall 2023
Cannon, Adam H
Fr
4:10 PM - 5:25 PM
413 HAM
More Details
Emerging Scholars Prog Seminar
COMS W 1404-007
(20590)
Fall 2023
Cannon, Adam H
Fr
9:30 AM - 10:45 AM
309 HAM
More Details
Emerging Scholars Prog Seminar
COMS W 1404-008
(20591)
Fall 2023
Cannon, Adam H
Fr
11:00 AM - 12:15 PM
309 HAM
More Details
Emerging Scholars Prog Seminar
COMS W 1404-009
(20592)
Fall 2023
Cannon, Adam H
Fr
12:30 PM - 1:45 PM
309 HAM
More Details
Emerging Scholars Prog Seminar
COMS W 1404-010
(20593)
Fall 2023
Cannon, Adam H
Fr
2:00 PM - 3:15 PM
309 HAM
More Details
Fieldwork
COMS W 3999-089
(14432)
Fall 2023
Plancher, Brian
-
More Details
Fieldwork
COMS W 3999-092
(20715)
Fall 2023
Kaffes, Kostis
-
More Details
Adv Mach Lrng Health &med
COMS W 4995-014
(20725)
Fall 2023
Joshi, Shalmali
Fr
2:00 PM - 4:00 PM
253 ENG
More Details
Internet Measurement
COMS E 6998-023
(20650)
Fall 2023
Katz-Bassett, Ethan
We
4:10 PM - 6:40 PM
644 MUDD
More Details
Adv Computer Networks
COMS E 6998-024
(20651)
Fall 2023
Katz-Bassett, Ethan
TR
2:40 PM - 3:55 PM
303 URI
More Details
---
Schedule and Course Archives
---
---
Updated 07/03/2023