---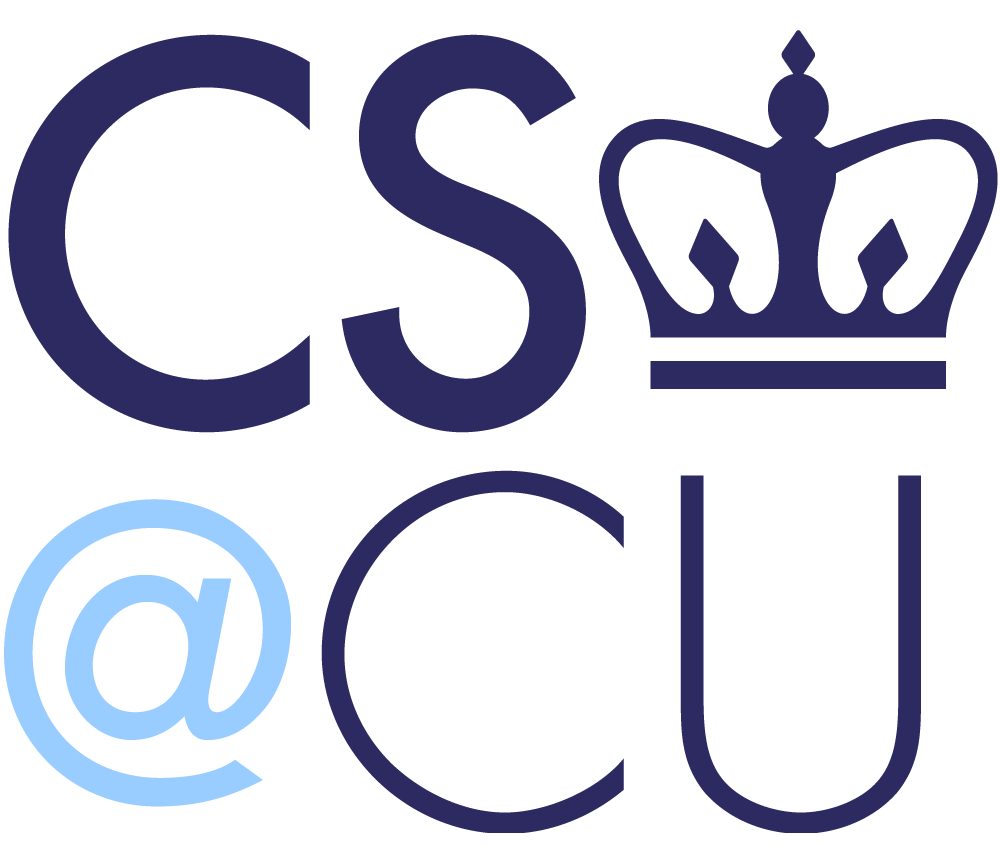 Admissions Information
Thank you for your interest in our CS@CU programs! Please be sure to read through our pages, and complete keyword searches to help you gather information and make the most informed decision possible regarding the next step in your educational career.
---
CONTENTS
---
UNDERGRADUATE PROGRAMS
Undergraduates wanting to major in computer science first apply through one of four undergraduate schools:
  Still have questions/ ready to apply? Click here!  
---
APPLICATION PRIORITY DEADLINES
Applications received and considered complete by these priority deadlines will be reviewed in the first or second priority group of applications. We recommend you submit your application a couple of weeks before the priority deadline to ensure that all materials including recommendation letters are received in time for priority review.
 CS Programs
 Fall 
 Spring
 Doctoral: MS/PhD*, PhD, EngScD
 December 15
October 15
 Master of Science (CS MS)
 1st Priority: January 15 
 October 15
 2nd priority: February 15
 MS Express Application
 (Columbia Undergrads only)

 Priority: November 1

 October 15
 Final Deadline: May 1st
 Dual MS, CS & Journalism
 January 15
 N/A
 CS@CU MS Bridge Program
 February 15th
 N/A
* This is NOT a CS MS, it is a degree earned en route to the PhD. CS MS applicants need to follow the Master of Science Deadlines.
---
MS PROGRAMS
The Master of Science (MS) program is intended for professionals who wish to broaden and deepen their understanding of computer science. Columbia University and the New York City environment provide excellent career opportunities in multiple industries. The program provides a unique opportunity to develop leading-edge in-depth knowledge of specific computer science disciplines.
MS applicants whose primary interests include software engineering, theory, AI, machine learning, vision/graphics, natural language processing, or other core CS areas should apply to the Computer Science MS Program.
MS applicants whose primary interests include computer architecture, parallel systems, embedded systems, or digital/VLSI design should apply to the Computer Engineering MS Program.
 MS Application Priority Deadlines 
Applications will be accepted after priority deadlines however we encourage you to submit your application as early as possible after we open the application. 
Fall: January 15th (1st Priority), February 15th (2nd priority)
Spring: October 15
 Track Options 
  Still have questions? View our CS MS Application FAQs  
---
DUAL MS IN JOURNALISM AND COMPUTER SCIENCE
Admitted students will enroll for a total of five semesters — approximately three in The Fu Foundation School of Engineering and Applied Science and two in the Journalism School. In addition to taking classes already offered at the Journalism and Engineering schools, students will attend a seminar and workshop designed specifically for the dual degree program. The seminar will teach students about the impact of digital techniques on journalism; the emerging role of citizens in the news process; the influence of social media; and the changing business models that will support news gathering. In the workshop, students will use a hands-on approach to delve deeply into information design, focusing on how to build a site, section, or application from concept to development, ensuring the editorial goals are kept uppermost in mind.
  Want to learn more? Visit the program website!  
---
PHD PROGRAM
The Columbia University Department of Computer Science is looking for top-quality students to join its PhD Program. The department hosts exciting projects in a growing number of research areas. (See below.) Columbia University is located in New York City, one of the cultural, financial, and communications capitals of the world. This central location makes it possible for the members of the Department of Computer Science to have close ties with the nearby research labs of virtually all major technology companies, as well as with a number of major companies including financial companies of Wall Street.
 OVERVIEW OF THE PHD PROGRAM 
A small number of highly qualified students are admitted each year to the PhD Program in Computer Science. Admission is very competitive, based primarily on research-oriented reference letters, academic grades, and overall experience and record. Applicants need not already hold a master's degree; bachelor's degree-level applicants are also encouraged to apply.
Most admitted students receive full financial support through Graduate Research Assistantships, which consist of a monthly stipend plus full tuition exemption (continuation of support is, of course, contingent upon the student's satisfactory progress in the PhD Program and availability of funding). In addition, the Fu Foundation School of Engineering and Applied Science awards a small number of prestigious "Presidential Distinguished Fellowships." These fellowships provide full financial support to their recipients. Applicants are strongly encouraged to seek external funding, such as government and industry fellowships. Also, Columbia rents low-cost subsidized apartments near campus for both single students and students with families.
All PhD students are expected to participate in departmental and laboratory activity full-time on-campus throughout the program, except possibly for summer internships elsewhere. Therefore, the department does not normally consider admission of part-time students. Also, note that it is not possible to participate in the PhD Program through the Columbia Video Network.
 HOW AND WHEN TO APPLY TO THE PHD PROGRAM 
All applications to our PhD Program must be made electronically. The online application system is available on the SEAS Admissions website. The deadlines for the submission of your fully completed application are:
Starting the PhD Program in the Spring semester: apply by November 15 of the previous year
Starting the PhD Program in the Fall semester: apply by December 15 of the previous year
You can still apply after these deadlines. However, be aware that applications are usually reviewed soon after the deadline, so late applications may not be processed as quickly or have the best chance of getting funding from our department.
 HOW TO GET MORE INFORMATION 
The SEAS Admissions website contains detailed information about all aspects of the application process.
You are also encouraged to investigate the research conducted in the Department of Computer Science prior to application. In particular, think about which faculty members share your research interests and also look at the research group homepages. Feel free to contact potential faculty advisors by email to request information about their recent research and publications, and to ask about opportunities in their research groups or labs.
Finally, become familiar with our PhD degree requirements.
If you are interested in learning more about a day in the life of our PhD students, check out the Demystifying the Dissertation: PhD Research Discussions seminar series, which highlights several Computer Science PhD students. In their videos, these students discuss their experiences and research projects. This series is a CS Student Services initiative and its goal is to help undergrads, master's students, and alumni understand the often mystifying world of PhD research and the dissertation process. Watch the series here.
 COMPUTER SCIENCE PhD PRE-SUBMISSION APPLICATION REVIEW (PAR) PROGRAM 
The PhD PAR program offers a one-time review of an applicant's Personal Statement and CV. The review is done by a current computer science PhD student. For more information, please visit PhD Pre-Submission Application Review Program.
---
QUESTIONS?
We receive an enormous volume of emails with application-related questions, so read this website carefully before sending us an email. Questions about particular research groups or individual faculty members should be directed to the appropriate faculty members by email.
---
Updated 08/01/2023