Assistant Professor Allison Bishop takes a look at failure and how people can learn from "unsuccessful" research.
When it comes to research and getting papers into cryptography conferences, there usually has to be a "positive" result — either a new theorem must be proven, a new algorithm must be presented, or a successful attack on an existing algorithm must be obtained. If researchers try to accomplish a lofty goal and fall short, but manage to achieve a smaller goal, they typically present only the smaller goal as if it was the point on its own.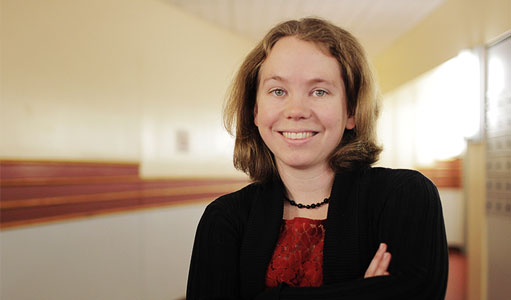 "I've found that not every research paper magically comes together and has a "great" result," said Allison Bishop, who has been teaching since 2013. "Our community doesn't really talk about the research process and I wanted to highlight research where even if it "failed" there is still something to learn from it."
Through the years Bishop noticed the lack of a venue to talk about all kinds of research. When she and other researchers studied obfuscation it resulted in a paper "In Pursuit of Clarity In Obfuscation". In the paper they talked about how they "failed" but managed to still learn from their mistakes. Their topic on failure was not considered a "standard" that could be published and they were not able to submit it to a conference. But Bishop, along with PhD students Luke Kowalczyk and Kevin Shi, really wanted to get their findings out and share it with other researchers.
And so, a conference dedicated to disseminating insightful failures of the cryptology research community was born. The Conference for Failed Approaches and Insightful Losses in Cryptology or CFAIL featured seven previously unpublished papers for a day of talks by computer scientists on insightful failures spanning the full range from cryptanalysis (trying to break systems) to cryptographic theory and design (constructing new systems and proving things about specific systems or about abstract systems, etc.).
"CFAIL is great for our field in that it promotes openness and accessibility for these kinds of ideas which are typically sort of intimate," said Luke Kowalczyk, who completed his PhD in November of last year. "When approaching new problems, it's always helpful to see the approaches of other researchers, even if they were not successful. However, it's rare to see failed approaches explained in a public and formal setting."
They were not alone in thinking about the lack of dialogue on research failures. At the time of the conference, a thread on Hacker News (a tech news aggregator) discussed the incentive structures of academia. Shared Kowalczyk, "I was proud to see CFAIL cited as an example of a scientific field with a formal venue to help promote this kind of openness."
"There is a deeply ingrained human tendency to fear that being open about failure will make other people think you are dumb," said Bishop. On the contrary, the researchers at CFAIL were some of the "most creative, bold, and deeply intelligent people." And the atmosphere it created was energizing for the participants — the audience got pretty involved and felt comfortable asking questions, and even started thinking about some of the open research problems in real time. Continued Bishop, "I think talking about failure is probably the best scientific communication strategy left that is severely underused."
Bishop will continue to promote openness in scientific research with another CFAIL at Crypto 2020. This time around it will be a workshop at the conference and a call for papers will be out soon.