PhD student Didac Suris talks about his research and winning a prestigious Microsoft Research Fellowship.
"So, this is a rough idea for modeling trajectories and I need your feedback," said Didac Suris to the room while his teammates looked at him over bowls of Chinese food. "I literally just thought of this two days ago."
It is the first week that working lunch meetings can resume at Columbia. Suris, along with other members of the computer vision lab, immediately took advantage of it. As they settle down into the meeting, Suris talks about his research proposal and his audience exchanges ideas with him in between bites of food. The last time this happened was two years ago.
"We came back in the Fall and it is good to be back in the office," said Didac Suris, a third-year PhD student advised by Carl Vondrick. "Collaborating with teammates and just being out has worked wonders for my productivity which has skyrocketed compared to when working alone, or from home."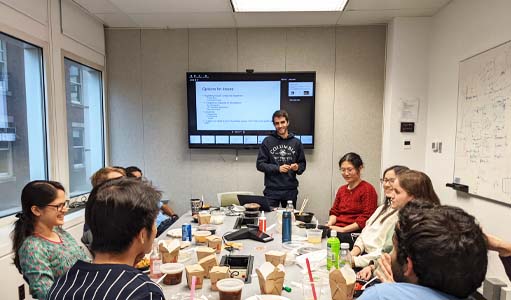 Suris can be found in an office in CEPSR working on research projects that study computer vision and machine learning. The projects focus on training machines to interact and observe their surroundings, including his work on predicting what will happen next in a video. This is in line with his long-term goal of creating systems that can model video more appropriately and help predict the future actions of a video, which will be useful in autonomous vehicles, human-robot interaction, broadcasting of sports events, and assistive technology.
Suris was recently named a Microsoft Research Fellow. The research he has done while at Columbia focuses on computer vision and building systems that can learn on their own, which is very different from what he studied in undergrad, telecommunications at the Polytechnic University of Catalunya in Barcelona, Spain. We caught up with Suris to ask about how his PhD is going and winning the fellowship.
Q: What was your journey to Columbia? How did you pivot from telecommunications to applying for a PhD in computer vision?
It was only during my master's, when I started doing research on computer vision, that I started to consider doing a PhD. The main reason I'm doing a PhD is because I believe it is the best way to push myself intellectually.
I really recommend doing research in different places before starting a PhD. Before starting at Columbia, I did research at three different universities, which prepared me for my current research. These experiences helped me to 1) understand what research is about, and 2) understand that different research groups work differently, and get the best out of each one.

Q: What drew you to machine learning and artificial intelligence?
One of the characteristic aspects of this field is how fast it is evolving, and how impressive the research results have been in the last decade. I don't think there was a specific moment where I decided to do research on this topic, I would say there was a series of circumstances that led me here, including the fact that I was originally interested in artificial intelligence in the first place, of course.

Q: Why did you decide to focus on computer vision?
There is a lot of information online because of the vast amount of videos, images, text, audio, and other forms of data. But the thing is the majority of this information is not labeled clearly. For example, we do not have information about the actions taking place in every YouTube video. But we can still use the information in the YouTube video to learn about the world.
We can teach a computer to relate the audio in a video to the visual content in a video. And then we can relate all of this to the comments on the YouTube video to learn associations between all of these different signals, and help the computer understand the world based on these associations. I want to be able to use any and all information out there to develop systems that will train computers to learn with minimal human supervision.

Q: What sort of research questions or issues do you hope to answer?
There is a lot of data about the world on the Internet – billions of videos are recorded every day across the world. My main research question is how can we make sense of all of this raw video content.

Q: What was the thesis proposal that you submitted for the Microsoft PhD?
The proposal was called "Video Hyperboles." The idea is to model long videos (most of the literature nowadays is on very short clips, not long-format videos) by modeling their temporal hierarchy. For example, the action of "cutting an onion" is composed of the subactions "grabbing a knife", "pressing the knife", "gathering the pieces." This forms a temporal hierarchy, in which the action "cutting an onion" is higher in the hierarchy, and the subactions are lower in the hierarchy. Hierarchies can be modeled in a geometric space called Hyperbolic Space, and thus the name "Video Hyperboles."
I have not been working on the project directly, but I am building up pieces to eventually be able to achieve something like what I described in the proposal. I work on related topics, with the general direction of creating a video representation (for example, a hierarchy) that allows us to model video more appropriately, and helps us predict the future of a video. And I will work on this for the rest of my PhD.

Q: What is your advice to students on how to navigate their time at Columbia? If they want to do research what should they know or do to prepare?
Research requires a combination of abilities that may take time to develop: patience, asking the right questions, etc. So experience is very important. My main advice would be to try to do research as soon as possible. Experience is very necessary to do research but is also important in order to decide whether or not research is for you. It is not for everyone, and the sooner you figure that out, the better.

Q: Is there anything else that you think people should know about getting a PhD?
Most of the time, a PhD is sold as a lot of pain and suffering, as working all day every day, and being very concerned about what your advisor will think of you. At least this is how it is in our field. It is sometimes seen as a competition to be a great and prolific researcher, too. And I don't see it like that – you can enjoy (or hate) your PhD the same way you enjoy any other career path. It is all about finding the correct topics to work on, and the correct balance between research and personal life.