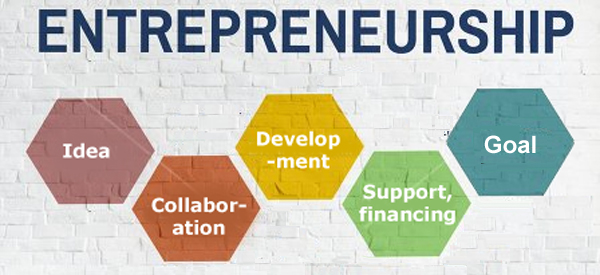 Columbia University offers a range of support for students and alumni looking to start their own companies, from hackathons where students can hone their skills and receive feedback, to services that provide funding and advice, to workspace and labs for startups.

Hackathons and other competitions
DevFest. Columbia's largest tech forum happens every January. Beginners and experts alike are invited to hack, meet, and build with other tech enthusiasts from around campus.Learn from thought leaders, participate in workshops, and an 18-hour hackathon. Free.
$250,000 Columbia Venture Competition. Held every spring since 2009, this multi-round competition is open to current Columbia, Barnard, and Teachers College students and recent alumni, who register for event during February. The competition has five tracks, with the top three winners splitting the $50K prize.
Columbia Startup Lab (CSL) Cohort. Each spring, CSL offers coworking space at reduced rates to recent-alumni. The space is administered by WeWork and is located at 69 Charlton Street. Admitted teams may spend up to one year in the space (administered by WeWorks) and are required to commit to a minimum of four months.
Accelerator programs

NYC Media Lab Combine. Matches new technologies emerging in NYC university labs, studios, classrooms, and dorms with a program and resources to commercialize them.  The Combine provides both funding and mentoring and is supported by funding from the New York City Economic Development Corporation, the Mayor's Office of Media and Entertainment, and through the support of NYC Media Lab's corporate membership. Applications are taken in the fall.
Verizon Connected Futures Prototyping and Talent Development.  In partnership with NYC Media Lab, this program supports development of new media and technology projects from universities across New York City, linking students and faculty with industry experts. Applications are taken at NYC Media Lab's annual Summit in the fall (in 2016, the application date was September 22).
Entrepreneurs Roundtable Accelerator (ERA). NYC's largest accelerator program aims to impact the trajectory of early-stage startups by providing seed capital, hands-on help and a great co-working location. ERA runs two four-month programs per year.
How they did it: Columbia entrepreneurs in the news

Forbes article on Text IQ, an AI startup cofounded by Apoorv Agarwal (PhD'16), uses NLP and ML techniques to streamline document review process for attorneys. Already profitable, the company saved customers $3M in legal expenses just this year, not counting what was saved by averting problems.
CNN article profiles former CS student Moawia Eldeeb (BS'15). Once living a shelter, he made his way to Columbia to study computer science, and went on to found SmartSpot, a startup that last year raised $1.5M.
Droice's prescription drug analyzer: From initial idea to a hospital-wide rollout in less than 12 months.