NYC company, with an assist from Columbia online teaching, is training AI talent in places few other companies think to look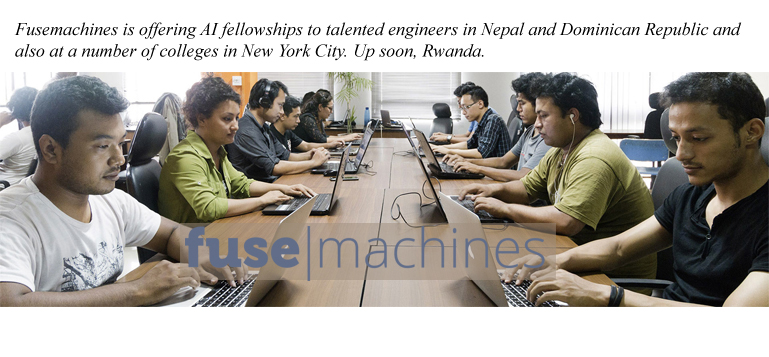 AI talent is expensive, scarce, and hard to retain, making it tough for startups and small companies to compete with the big established tech giants that can afford the high-flying salaries and expensive perks AI engineers regularly command. But rather than compete for already trained AI engineers, NYC-based Fusemachines is pursuing a different strategy. An AI business intelligence software company founded in 2013, Fusemachines is developing its own homegrown AI talent, and doing so far from the Silicon Valley, New York City, and other major tech hubs. Having already trained 80 engineers in Nepal, Fusemachines has immediate plans to train students in the Dominican Republic, Rwanda, and a number of small colleges in New York City, providing students with the resources and opportunity to study artificial intelligence and machine learning.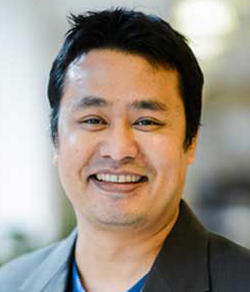 "We at Fusemachines want to find and cultivate this talent, and give them access to proper education and the opportunity to learn the concepts and methods of AI and machine learning," says Sameer Maskey, founder and CEO of Fusemachines and a Columbia alumni who received his PhD in computer science in 2008 (advised by Julia Hirschberg). "We believe that with adequate training, these students will thrive as well as any engineering students at the elite universities in the US and Europe. There is talent around the world, and we neglect it to our detriment."
Amidst an expansion of artificial intelligence initiatives, concerns are growing that the top pool of AI talent is going only to larger tech giants. Even though many traditional industries like healthcare and energy are primed for disruption, companies in these fields are struggling to attract engineers with a sophisticated understanding in machine learning and deep learning. By making training in AI accessible to engineers far removed from the Silicon Valley, Fusemachines hopes more companies aiming to experiment with AI will have access to the talent needed to build innovative solutions. "We are breaking down barriers by making the power of AI and machine learning available to students who can build new AI solutions across all industries," Maskey said.
For Maskey, who is also Adjunct Assistant Professor at Columbia University, it's about democratizing AI—making artificial intelligence technology accessible to people and companies that do not have it in the current environment. It's also about changing assumptions about who can be trained to do cutting-edge technology.
While there is an undeniably uplifting aspect to the Fusemachines mission, making AI more widely accessible is also about ensuring a young company has the skilled engineers to differentiate its services through the use of AI.
But can Nepali computer scientists and engineers do the type of complex systems development needed for building leading-edge AI services that are usually considered the reserve of those who graduate from elite Western universities? Maskey says, yes, absolutely. They already are. Fusemachines has 80 engineers spread between its New York and Kathmandu offices; more than 85% of those engineers are working in the Nepal office, where they are creating new machine learning algorithms and designing the software systems that are core to Fusemachines' current and future businesses.
Fusemachines started out by building customer service chatbots to automatically answer questions that come through a helpline, with New York City's Small Business Services as one of its first clients. Bringing the same expertise to sales processes, the company next expanded into building AI sales assistants that interact with humans through emails, mobile apps, and sales software to learn what sales tasks could be automated. An AI sales assistant now does the repetitive, menial tasks of filtering through millions of sales leads to rank them according to likelihood of success, freeing salespeople to concentrate on more productive tasks.
The company's rapid expansion was the result of an AI fellowship program that Fusemachines instituted early this year to ensure the necessary number of engineers.

AI Fellowships to find and develop raw talent
In the beginning when Fusemachines was getting off the ground, Maskey did the training himself, occasionally spending up to 80% of his time instructing either onsite in Kathmandu or over Skype, often getting up before dawn to teach students in a time zone 11 hours ahead of New York. Gradually, the engineers he trained began training newly hired engineers, freeing up more of Maskey's time. Still, the training was not scalable to the degree needed.
With Fusemachines growing rapidly—Maskey expects to place 2,000 engineers in the next 3-5 years—and the need for many more trained engineers escalating also, Fusemachines early this year started offering 25 AI fellowships in Kathmandu. With over 400 applications, selection of the 25 fellows was based on an exam and interviews (ultimately 27 were selected). Applicants did not have to be employees of Fusemachines—in fact 14 current fellows are employed by other companies, including some that directly compete with Fusemachines—but obviously there is interest on both sides for employment. Fusemachines has already hired some of the fellows as full-time engineers.
The training of the fellows has been greatly accelerated thanks to the availability of Columbia University's Online MicroMasters in Artificial Intelligence in partnership with edX, one of the largest online learning platforms and MOOC providers in the world. MicroMasters gives participants a rigorous, graduate-level foundation in AI through four key courses taught by Columbia Engineering faculty: Artificial Intelligence, Machine Learning, Robotics, and Computer Animation. Launched in 2016, the MicroMasters represents 25 percent of the coursework toward a Master's degree in Computer Science at Columbia University and is intended for individuals who hold a Bachelor's degree in Computer Science or Mathematics and are comfortable with programming languages.
Soulaymane Kachani, Vice Provost for Teaching and Learning of Columbia University and Senior Vice Dean for Columbia Engineering, says the program was designed to provide students a solid foundation in AI that will give learners an important edge in one of the fastest growing industries in the world. "Advanced technology is transforming the way we learn as much as it's transforming the way we work," said Kachani. "Columbia prepares students to be innovators and leaders, so it's fitting that we are offering cutting-edge content taught by outstanding research faculty, marrying advanced technology with sound pedagogy, and opening it up to learners around the world."
The MicroMasters has helped Fusemachines redefine its fellowship program as students from far-flung parts of the world get to learn from some of the best professors at Columbia who are teaching the subject. The first Fusemachines fellows are now halfway through the program. None have dropped out, though a few, especially those currently employed, struggle to keep pace with others who have more time to devote to the lessons. Along with the online teaching, Fellows also receive mentoring from Fusemachines engineers and scientists.
So successful is the program, Fusemachines is moving up the start of the next training round for 25 more fellows in Nepal by six months. Originally, the company planned to wait until the current fellows finished the program before beginning the next iteration. Instead the company is already taking applications and plans to start the second edition of the fellowship program in Nepal early next year.
And not just in Nepal. The company is now taking its AI fellowship program worldwide in an effort to democratize AI. Fellowships are being expanded to the Dominican Republic and to smaller New York City colleges (among them, Baruch College, Pace University, Hunter College, NYIT) where students often don't have the opportunity to pursue Master's degree at Ivy League schools or don't have the means to pay for expensive boot camps. Soon the company will launch fellowships in Rwanda. Each location—Dominican Republic, NYC, and Rwanda—will offer 25 fellowships.
---
Apply here for Fusemachines' AI fellowships in NYC and Dominican Republic. 
---
Importance of research
To help run and expand the AI fellowship program, Fusemachines recently hired Stephen J. Rennie, a former team lead for the IBM Watson Multimodal Group and a veteran in speech recognition research. Rennie has one other responsibility: to oversee research projects in cutting-edge technology.
Maskey sees research as an essential component to the company's success and necessary to improving the AI products and services that Fusemachines offers. "Doing research helps students understand the fundamentals of machine and deep learning," Maskey said. "A lot of people can use TensorFlow to run something quick but building something new from scratch is important if you want to have deep understanding of AI mathematics and want to invent new mathematical frameworks or new equations that can win AI challenges. It's practicing science, it's fun, and it raises the spirit of the entire company."
Currently machine learning engineers and fellows are building speech recognizers, image captioning programs, and chatbots from scratch, and even a unibody drone capable of flying long distances in mountainous terrain. These efforts are not small-scale. AI fellows are competing in MS COCO and SQuAD, going against competitors from Microsoft, Salesforce, MIT, CMU, and other tech powerhouses.
While drones are not part of any business plan, Maskey greenlighted the project after one of the AI fellows, now also a Fusemachines engineer, expressed interest in using AI to program drones that can fly medicine to remote areas of Nepal where an overland delivery might take two days. "Part of democratizing AI means giving engineers the means to solve the problems they see in their own country," says Maskey. "We are able to give students the opportunity to experiment with AI, while benefiting their own countries that could never afford engineers from the US or Europe."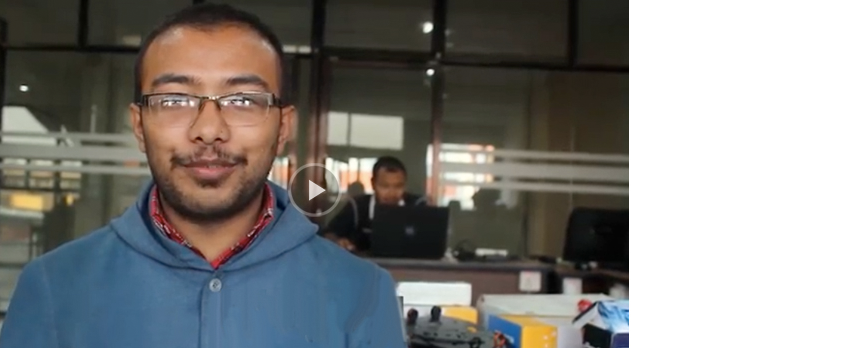 Fusemachines' program to train talented engineers is working for employees and for the company. The AI Fellowship combined with individual mentoring from the company's engineers and scientists is providing advanced machine learning and AI training to people who would not otherwise receive it, either because they lack the needed resources or live far from technology centers. As trained engineers able to command a higher salary, Nepali engineers can achieve a better standard of living, which often benefits the entire family.
For Fusemachines, training talent means a steady and guaranteed supply of AI engineers in a time when such resources are scarce. And while the company pays market rates and above, they are market rates in Kathmandu, one third the rates in New York City or the Silicon Valley.
Perhaps the best evidence of how well Fusemachines's strategy is working is the company's astonishing 100% retention rate for engineers.
Maskey is betting that AI talent can be found anywhere; the company depends on it. And so far, Fusemachines is winning the bet.
Posted 12/13/17
– Linda Crane