Womxn in Computer Science (WiCS) President Rediet Bekele (CC '21) talks about the organization's plans to help members and its new initiatives for the year. She takes a positive look at the move to virtual classes and online events and sees it as an opportunity to reach even more people and help members navigate this school year.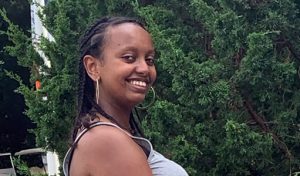 Below, Bekele reflects on the changes this year and how WiCS will help build a sense of community for its members. 
How do you see the year unfolding for WiCS?
We are already in the works for Fall events that will allow our members to participate virtually. We started holding General Body meetings over the summer and it will continue virtually into the academic year. We are hoping that through these meetings we can instill the feeling of community that is currently much needed.
We plan to grow the number of members that join our club by onboarding early. WiCS' community chairs are going to be working closely with incoming first-year students to create a channel with WiCS. They want students to use this channel to help navigate on-campus and virtual resources. Workshops on how to communicate with TAs and professors and lightning talks about research projects on campus are just some of the events we are organizing to help students understand course-related and research opportunities that are made available to them.  
What do you hope to achieve this year as president?
As an international student myself, I want to work on more initiatives that will help international students navigate the CS community at Columbia and use the resources available to them to succeed in the field. This will include organizing professional development opportunities, workshops on understanding work authorization, and making the most out of health and course-related resources on campus. 
Within the club, I hope to make the transition to the coming academic year as smooth as possible on everyone on the board. We are anticipating the majority of our correspondence to be remote this coming year so I want to make sure that effective virtual communications still occur and that we are able to continue working with all of our members. It will definitely be a learning curve for all of us as the virtual format is truly a unique situation, but WICS' amazing board members and general body are sure to make it an effortless transition. 
How about the yearly events and activities that WiCs hosts, will any of those push through?
Definitely! Just as we have done in previous years, we are sponsoring students attending the Grace Hopper Conference. This year, WiCS is a bronze level academic sponsor for the conference and we are incredibly excited to be sponsoring 30 women to attend the virtual conference in October!
DivHacks is also virtually taking place this fall from October 23 -25. Our diversity chairs have been working hard to make the fifth annual DivHacks hackathon the best one to date. The theme for this year's hackathon is Encoding Justice. We encourage everyone to check out the DivHacks website and register for the event. 
We also have numerous events coming up with our general body members such as virtual professor lunches, mock interview sessions to help our students during the recruitment season, and 1:1 coffee chats with engineers from our sponsor companies. 
We can't wait for students to take part in all of our events! 
How can students reach out to WiCS and find out more about your programs?
A great way to keep up with our events is to subscribe to our weekly newsletter. Students can subscribe through the link on our website. They can also reach out to us on our Facebook page and Instagram channel. 
Is there anything else you think people should know?
In light of current issues, from a pandemic that has closed the doors of our campus to heightened tension and protests against racial inequality, it is easy to feel overwhelmed, stressed, furious, and confused. We want to let everyone know that WiCS is here to serve not only the CS community but the entire Columbia and Barnard student community. We want to keep open lines of communications so that anyone can reach out to us and we would be happy to listen, provide resources, or support.