CS researchers headed to the 2019 ACM CHI Conference on Human Factors in Computing Systems in Glasgow, Scotland. The conference gathers researchers and scientists to examine the ways that technology can be used to improve people and society.
This year's papers feature women-led research – assistant professor Lydia Chilton presented three projects, including one with Katy Gero, a PhD student. While undergrad Lauren Arnett took part in a poster presentation for work that studied livestreaming.
Below are brief descriptions and links to the research.
VisiBlends: A Flexible Workflow for Visual Blends
Lydia B. Chilton Columbia University, Savvas Petridis Columbia University, Maneesh Agrawala Stanford University
Visual blends are an advanced graphic design technique to draw attention to a message. They combine two objects in a way that is novel and useful in conveying a message symbolically. This paper presents VisiBlends, a flexible workflow for creating visual blends that follows the iterative design process. The tool introduces a design pattern for blending symbols based on principles of human visual object recognition.
"To the average person, it seems that a visual blend requires creative inspiration—an aha! moment—and that there is no exact formula to make one," said Chilton, in an interview. "We wanted to deconstruct the process of building visual blends and see if there was a way we could make it more accessible to people by coupling the human element with computational methods."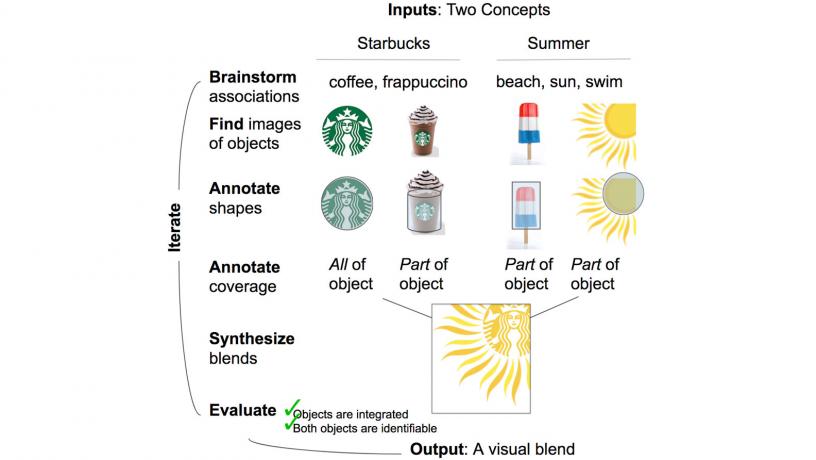 Visiblends allows users to collaboratively generate visual blends with steps involving brainstorming, synthesis, and iteration. An evaluation of the workflow shows that decentralized groups can generate blends in independent microtasks, co-located groups can collaboratively make visual blends for their own messages, and VisiBlends improves novices' ability to make visual blends.
Cross-platform Interactions and Popularity in the Livestreaming Community
Lauren Arnett Columbia University, Robert Netzorg Columbia University, Augustin Chaintreau Columbia University, Eugene Wu Columbia University
The paper explores how livestreamers on the platform, Twitch, may want to use other social media accounts to develop their audience.

Twitch is a social media platform owned by Amazon that focuses on livestreaming for video gamers. With opportunities for receiving donations and paid subscriptions, the most popular Twitch content creators can earn up to $500,000 per month.

Twitch users have social incentives to become popular, as passionate, tight-knit communities form in support of individual successful streamers. A common piece of advice for Twitch users looking to gain popularity is to have a social media presence and use it to promote themselves. The researchers looked into the validity of this claim to see if social media presence was in fact associated with popularity, to confirm if that is an effective way of promotion for streamers.

With data from over 17,000 streamers both directly from Twitch and scraped from social media platforms, different behaviors on social media platforms were examined to see if they correlated with popularity. For example, a Twitch user who develops a social media following before they started streaming may be able to transfer their popularity over to their Twitch profile. However, when compared with Twitch users who started a social media account after their first stream, the researchers were surprised to find that based on two measures of popularity, users who started Twitch with an existing social media presence did not experience a significant advantage over those who do not.

"Throughout this project, I've been amazed by the variety of people who stream and the lengths they go to for their audiences," said Lauren Arnett, a computer science student. The livestreaming community extends all over the world and unites over particular games or streamers with a ton of enthusiasm. Streamers themselves spend the hours of an overtime work week playing for the entertainment of their viewers, creating a complex livestreaming schedule that will satisfy followers in any time zone. She continued, "although Twitch is a relatively unknown platform, the commitment and connections that exist on it run deep."
Metaphoria an Algorithmic Companion for Metaphor Creation
Katy Ilonka Gero Columbia University and Lydia B. Chilton Columbia University
While computation has opened a floodgate of creative tools for music and the visual arts (like synthesizers, Photoshop, ChucK, SnapChat filters, and GANS) little of that fervor has transferred to the medium of text. Word processors that detect spelling and grammatical errors are useful, but do not support the creative elements of writing.
In this work, the researchers built a metaphor generation tool to help describe abstract concepts like 'love' or 'consciousness'. Metaphors convey abstract ideas by comparing them to more concrete or familiar concepts, and are used in all forms of writing from poetry to journalism.
"Metaphoria is an online tool that generates metaphorical connections between two words," said Katy Gero, a second year PhD student. "It is designed to give you ideas for poetry, essays, or stories. It augments your abilities, rather than replacing them."
The tool can generate suggestions that make sense to the writer, given what the writer is looking to do. It can also make suggestions that inspire writers to come up with new and different ideas. The researchers found that Metaphoria almost always produces some connections that make sense, though it's pretty dependent on the writer as to which connections make sense.
"Metaphoria rarely resulted in people writing very similar things; instead, Metaphoria inspires people to write things they might never have thought of," said Gero.