Columbia's Womxn in Computer Science (WiCS) share their experiences from the 2019 Grace Hopper Convention in Orlando, Florida. The annual conference is the world's largest gathering of women in computing.
Hadley Callaway
Grace Hopper was a fantastic experience. I completed three interviews with companies while there, and I was able to leave the conference with an offer for a software engineering internship.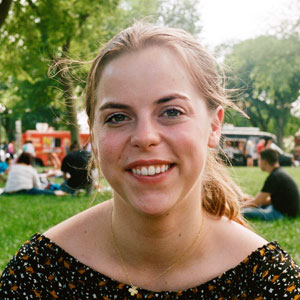 I spoke to recruiters and engineers from all sorts of different companies (big and small, offering a variety of products), and attended fun corporate events in the evening, including one at SeaWorld.
It was also very empowering to hear from womxn at the cutting edge of their field speak about their experiences and what they have learned. Attending the conference was a great opportunity for me to continue to develop professional skills such as pitching, networking, following up on connections, etc.
I am so thankful to WiCS and the Columbia CS department for making such an invaluable opportunity possible!
---
Michelle Mao
Thanks to WiCS, I was able to go to Grace Hopper '19, and any womxn in STEM would be lucky to do the same. The Grace Hopper Celebration is a lot of things but the most impactful thing about the celebration, for me, was how inspiring those short few days were.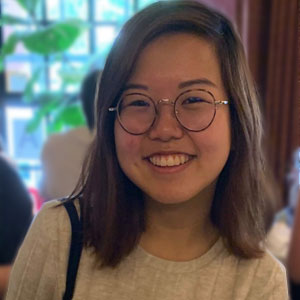 I had heard a lot about the conference from friends who have gone in the past, so I knew to expect a hectic schedule when I arrived in Orlando. In the three and a half days at Grace Hopper, I went to the career fair, got a free ticket to Harry Potter World, interviewed at a few companies, and acquired a lot of swag.
What I did not expect was spontaneously meeting other womxn while waiting in lines, running into friends I had not seen in years, or how truly friendly, open, and uplifting the atmosphere would be. I attended a researcher's luncheon with my friend, but I was a little nervous about going because the research I was doing was not exactly related to computing. But everyone at the table was so kind and welcoming — as we ate, the conversation shifted to topics other than research, until the luncheon just felt like a chat among a group of friends.
After the first couple of days, I also noticed that in my interviews, most of my interviewers were womxn. I had not realized until then that I have grown accustomed to being interviewed by men. It was wonderful to have this representation feel so normal, and meeting and talking with these incredible womxn was just the cherry on top. 
It's difficult to put into words, but Grace Hopper really does feel like a celebration: the energy is palpable and electrifying, the conversations are genuine, and womxn in STEM are there to support each other in every way possible. Being in this space was a privilege and I felt like I belonged, in every sense of the word, and it is one hundred percent an event any womxn interested in computing should experience.
---
Haley So
In a single word, the Grace Hopper Celebration was empowering. It was inspiring to see so many womxn pursuing and pushing the boundaries of computer science.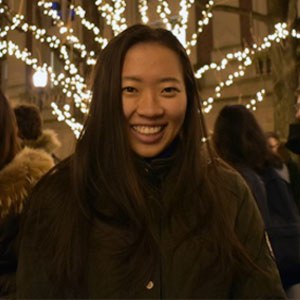 There were talks on everything from emerging technologies to how to promote yourself as a womxn in tech. I was also able to explore different paths and find out a little more about what direction I want to go in. I met so many lovely womxn, and I got closer to some WiCS members as we wandered around the enormous career fair and listened to talks from leaders in the field.
Going to the conference opened my eyes to the endless possibilities, introduced me to new role models, and made me excited about the future. I cannot wait for all those womxn to build the future world of tech!