Davide 

Giri

 Memorial Prize 
Established in 2022, the Davide Giri Memorial Prize is made annually to a graduate student in Computer Science who has combined excellence in research results with continued outstanding efforts to promote research collaboration. Examples of these efforts may include, but are not limited to, leading a large collaborative research project, mentoring students in their research projects, and sharing research outcomes as open-source artifacts in the public domain. The prize was established in memory of Dr. Davide Giri, who promoted research collaboration in an exemplary way as part of his doctoral studies while excelling as a researcher.
2023: Jan Janak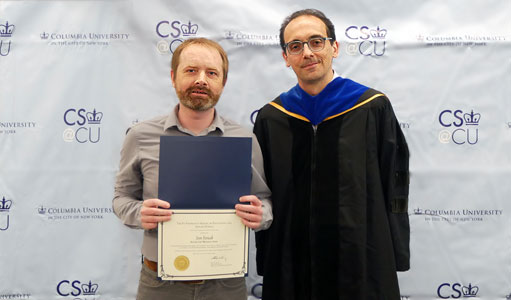 2022: Giannis Karamanolakis, Ana-Andreea Stoica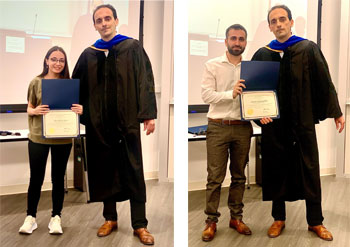 Andrew P. Kosoresow Memorial Award for Outstanding Performance in TA-ing and Service
First awarded to doctoral students in Spring 2004, replacing the previous PhD TA/Teaching Award of Excellence. Awarded each year by the Department of Computer Science to up to three Computer Science students for outstanding contributions to teaching in the Department and exemplary service to the Department and its mission. One of the awardees should be an undergraduate student unless no suitable candidate can be identified. The other awardees may be MS or PhD students.  (Only PhD awardees are listed below.)
2023: Adam Lin
2022: Guy Eichler, Kuan-lin Chiu, Maico Cassel Santos, Joseph Zuckerman
2019: Davide Giri, Luca Piccolboni 
2018: Ana Stoica 
2017: Clement Canonne 
2016: Lucas Kowalczyk 
2014: Apoorv Agarwal, Alexander Van't Hof 
2013: Melanie Kambadur 
2012: Jeremy Andrus 
2011: Swapneel Sheth, Breannan Smith
2010: John Demme, Bert Huang, John Zhang
2009: Jae Woo Lee, Paul Etienne Vouga, Oren Laaden 
2008: John Cieslewicz, David Elson 
2007: Janak Parekh, Yingbo Song 
2006: Christian Murphy 
2005: Abhinav Kamra 
2004: Paul Blaer, Jackson Liscombe
PhD Award for Excellence in TA-ing
Subsumed by the Kosoresow award.
2003: Peter Davis
2002: Michel Galley, Gaurav S. Kc
Paul Charles Michelman Memorial Award for Exemplary Service to the Computer Science Department
Established November 2000. This award is given to a PhD student in Computer Science who has performed exemplary service to the department, devoting time and effort beyond the call to further the department's goals. It is given in memory of Dr. Paul Michelman, '93, who devoted himself to improving our department through service while excelling as a researcher. (This award is not necessarily given every year.)
2023: Clayton Sanford
2022: Katy Gero, Tim Randolph
2021: Chris Kedzie
2020: Ireti Akinola
2019: Chengyu Lin
2017: Clément Canonne
2016: Jonathan Bell
2015: David Chisholm
2014: Jonathan Bell, Clément Canonne
2013: Jonathan Bell, Swapneel Sheth
2012: Jingyue Wu
2011: Joshua Gordon, Arthi Ramachandran
2010: Kristen Parton, John Zhang
2009: Matei Ciocarlie, Chris Murphy
2008: Julia Stoyanovich
2007: Gabriela Cretu
2006: Janak Parekh
2005: Alejandro J. Troccoli, Ani N. Nenkova
2004: Janak Parekh
2003: Phillip Gross
2002: Eugene Agichtein, Eleazar Eskin, Tiberiu Chelcea
CS Service Award
The faculty selects those doctoral students agreed to be in the top 10% in service contributions.
2023:

Andrea

Clark

-Sevilla, Kahlil Dozier, Sam Deng, Huy Ha, John Hui, Andreas Kellas, Tao Long, Roland Maio, Tim Randolph, Clayton Sanford, Hadleigh Schwartz, Raphael Sofaer, Sky Wang
2022: Kahlil Dozier, Samir Gadre, Katy Gero, Vivian Liu, Roland Maio, Jason Milionis, Shivam Nadimpalli, Tim Randolph, Clayton Sanford, Sky Wang

2021: Kahlil Dozier, Carmine Elvezio, Katy Gero, Roland Maio, Tim Randolph

2020: Raiyan Rashid Khan, Henrique Teles Maia, Roland Maio, Sitara Persad, Tim Randolph, Clayton Sanford, David Watkins
2019: Martha Barker, Brian Goodchild, Giannis Karamanolakis, Daniel Li, Henrique Maia, Parita Pooj, David Watkins, Ji Xu, Peilin Zhong
2018: Tariq Alhindi, Ghada Almashaqbeh, Oscar Chang, Brian Goodchild, Jihye Kwon, Ioannis Paparrizos. Shuo Yang, Jie Yuan, Linjie Zhu
2017: Marshall Ball, Robert Colgan, Stuart Hadfield, Luke Kowalczyk, Dingzeyu Li, Andrea Lottarini, Kevin Shi, Ana Stoica, Olivia Winn
2016: Ioannis Paparrizos, Clément Canonne, Stuart Hadfield, Brian Smith, Dimitris Paparas, Sakhar Alkhereyf, Andrea Lottarini, Victor Soto, Jinyu Xie, Jill Jermyn,
Erica Cooper, Anna Prokofieva, Kyung Hwa Kim, Yinxiao Li, Yudong Yang
2015: Jonathan Bell, Clément Canonne, Stuart Hadfield, Lianne Lairmore, Richard Townsend
2014: Erica Cooper, Peter Du, Noura Farra, Faiza Khan Khattak, Sarah Ita Levitan, Jessica Ouyang, Anna Prokofieva, Eva Sitaridi, Breannan Smith, Sebastian Zimmeck
2013: Melanie Kambadur, Nathaniel Boggs, Heba Elfardy, Daniel Miau, Laura Wilson, Zeinab Abbassi, Erica Cooper, Revika Levitan, Arthi Ramachandran, Sara Rosenthal
2012: Zeinab Abbassi, Jonathan Bell, Nathaniel Boggs, Erica Cooper, Nicolas Dedual, Heba Elfardy, Rivka Levitan, Melanie Kambadur, Arthi Ramachandran, Austin Reiter, Sara Rosenthal, Breannan Smith, Jingyue Wu
2011: Felix Sanchez Garcia, Joshua Gordon, Maritza Johnson, Arthi Ramachandran, Austin Reiter, Breannan Smith, Etienne Vouga, Jingyue Wu, Boyi Xie
2010: Rebecca Collins, Felix Sanchez Garcia, Maritza Johnson , Sungjun Kim, Guru Krishnan, Kristen Parton,Breannan Douglas Smith, Suman Srinivasan, Paul Etienne Vouga, John Zhang
2009: Hila Becker, Matei Ciocarlie, Gabriella Cretu, Kevin Egan, David Elson, Jin Wei Gu, David Harmon, Bert Huang, Maritza Johnson, Gurunandan Krishnan, Chris Murphy, Kristen Parton, Paul Etienne Vouga, John Zhang, Hang Zhao
2008: Hila Becker, Matei Ciocarlie, Gabriela Cretu, Charles Han, David Harmon, Steve Henderson, Maritza Johnson, Kyung Hwa Kim, Arezzu Moghadam, Chris Murphy, Kumiko Ono, Kristen Parton, Carlos Perez, Alex Sherman, Julia Stoyanovich, Wonsang Song, Sean White, Hang Zhao
2007: Knarig Arabshian, Hila Becker, Matei Ciocarlie, Rebecca Collins, Gabriela Cretu, Homin Lee, Sameer Maskey, Alex Sherman, Wonsang Song, Angelos Stavrou, Julia Stoyanovich, Hang Zhao
2006: Knarig Arabshian, Salman Baset, Hrvoje Benko, Paul Blaer, John Cieslewicz, Rebecca Collins, Gabriela Cretu, Eddie Ishak, Janak Parekh, Raphael Pelossof, Angelos Stavrou, Lauren Wilcox
Last updated on April 28, 2023.