Voices of CS: Sitong Wang
The first-year PhD student is developing tools that help people create engaging images and videos.
After growing up in Jiangsu, China, Sitong Wang studied electrical engineering at Chongqing University and the University of Cincinnati. During her co-op at the Hong Kong University of Science and Technology (HKUST), she was introduced to Human-Computer Interaction (HCI). This research area understands and enhances the interaction between humans and computers. She became interested in the field and then took her master's at Columbia CS. Wang was intrigued by how computation can power the creative process when she worked on a design challenge that blends pop culture references with products or services and helped a group of students promote their beverage start-up.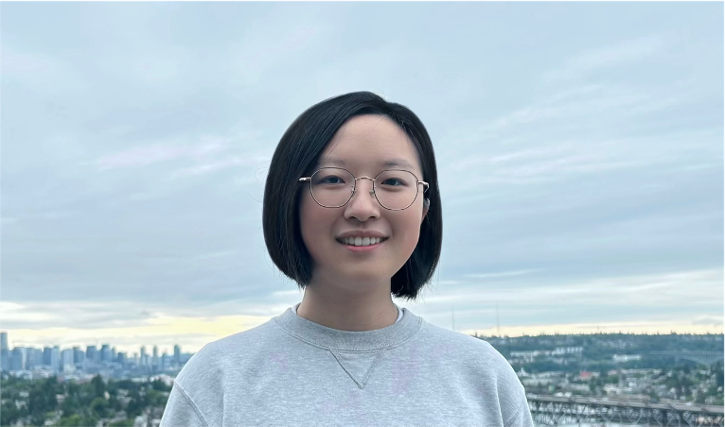 Encouraged by the creative work she could do, Wang joined the Computational Design Lab as a PhD student to continue to work with Assistant Professor Lydia Chilton and explore ways to design AI-powered creativity support tools. She recently published her first first-author research paper at the Conference on Human Factors in Computing Systems (CHI 2023). She and colleagues designed PopBlends, a system that automatically suggests conceptual blends by connecting a user's topic with a pop culture domain. Their user study shows that people found twice as many blend suggestions as they did without the system and with half the mental demand.
We caught up with Wang to discuss her research, her work on generative AI tools, and what it is like to be a graduate student at Columbia.

Q: What is PopBlends and why did you choose to focus on the design process?
In the paper, we tackled the creative challenge of designing pop culture blends—images that use pop culture references to promote a product or service. We designed PopBlends, an automated pipeline consisting of three complementary strategies to find creative connections between a product and a pop culture domain.
Our work explores how large language models (LLMs) can provide associative knowledge and commonsense reasoning for creative tasks. We also discuss how to combine the power of traditional knowledge bases and LLMs to support creators in their divergent and convergent thinking.
It can help people, especially those without a design background, create pop culture blends more easily to advertise their brands. We want to make the design process more enjoyable and less cognitively demanding for everyone. We hope to enhance people's creativity and productivity by scaffolding the creative process and using the power of computation to help people explore the design space more efficiently.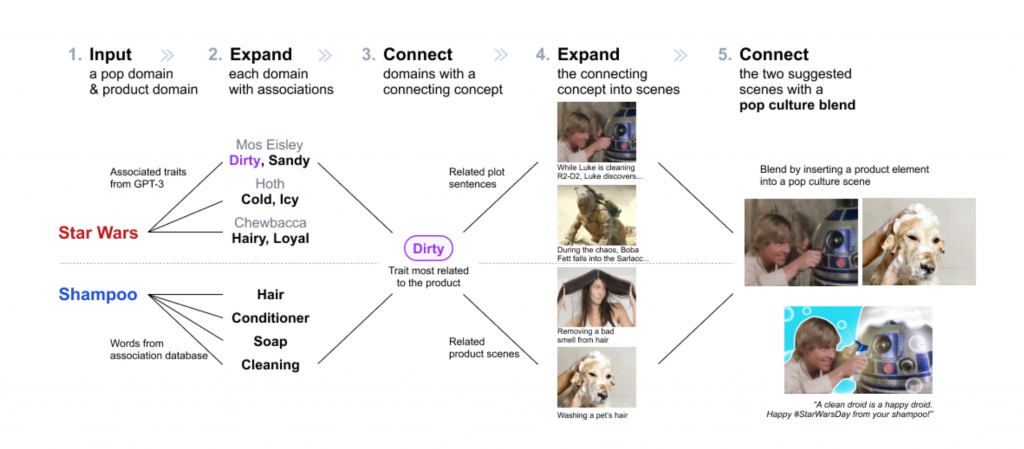 Q: Why did you create a tool incorporating pop culture into product ads?
Pop culture is important in everyday communication. Pop culture blends are helpful for online campaigns because they capture attention and connect the product to something people already know and like. However, creating these images is a challenging conceptual blending task and requires finding connections between two very different domains.
So we built an automated computational pipeline that can effectively support divergent and convergent thinking in finding such creative connections. We explored how to apply generative AI to creative workflows to assist people better—generative AI is powerful, but it is not perfect—thus, it is valuable to use different strategies that combine a knowledge base (which is accurate) and LLM (which has a vast amount of data) to support creative tasks.

Q: How were large language models (LLMs) helpful in your research?
Conceptual blending is complex—the design space is vast and valuable connections are rare—to tackle this challenge, we need to scaffold the ideation process and combine the intelligence of humans and machines. When we started this project, GPT-3 was not yet available; we tried traditional NLP techniques to find attribute associations (e.g., Chewbacca is fluffy) but faced challenges. Then, by chance, we tried GPT-3, which worked well with the necessary prompt engineering.
I was surprised by the associative reasoning capability of LLMs—which is technically a model that predicts the most probable next word. It easily listed related concepts for different domains and could suggest possible creative connections. I was also surprised by the hallucinations the LLMs made through our experiments, and the models could say things that were not true with great confidence.
As an emerging technology, LLMs are powerful in many ways and open up new opportunities for the computational design field. However, LLMs currently have a lot of limitations; it is essential to explore how to build system architectures around them to produce valuable results for people.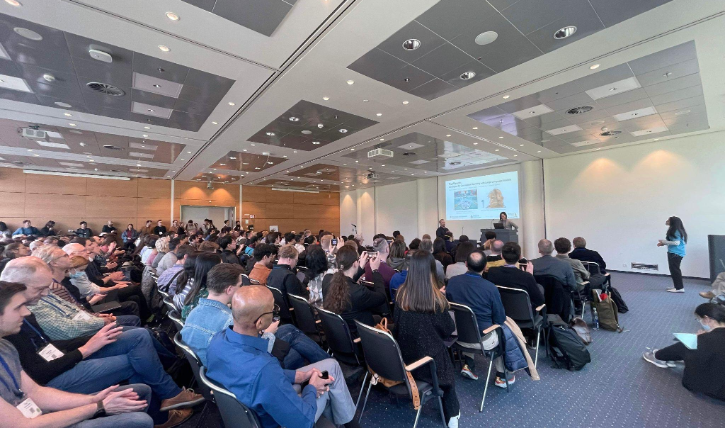 Q: How was it like presenting your work at CHI?
I was both nervous and excited because it had been a long time since I had presented in front of a crowd (since we did everything online during COVID). It was also my first time presenting at a computing conference, and the "Large Language Models" session I attended was very popular.

I am grateful to my labmate Vivian Liu, who provided valuable advice, helped me rehearse, and took pictures of me. The presentation went well, and I am glad we had the opportunity to present our work to a large audience of researchers. I would also like to express my gratitude to the researchers I met during the conference, as they provided encouragement and helpful tips that greatly contributed to my experience.

Q: What are you working on now?
I am working on a tool to help journalists transform their print articles into reels using generative AI by assisting them in the creative stages of producing scripts, character boards, and storyboards. In this work, in addition to LLMs, we incorporate text-to-image models and try to combine the power of both to support creators.
During the summer, I will work as a research intern at Adobe, where I will be focusing on AI and video authoring. Our work will revolve around facilitating the future of podcast video creation.

Q: Can you talk about your background and why you pursued a PhD?
My undergraduate program offered great co-op opportunities that allowed me to explore different paths, including roles as an engineer, UI designer, and research intern across Chongqing, Charlottesville, and Hong Kong. During my final co-op, I had the opportunity to work in the HCI lab at the Hong Kong University of Science and Technology (HKUST). This experience ignited my passion for HCI research and marked the beginning of my research journey in this field.

I enjoy exploring unanswered questions, particularly those that reside at the intersection of multiple disciplines. A PhD program provides an excellent opportunity to work on the problems that interest me the most. In addition, I think the training provided at the PhD level can enhance essential skills such as leadership, collaboration, critical thinking, and effective communication.

Q: What are your research interests?
My research interest lies in the creativity support in the HCI field. I am particularly interested in exploring the role of multimodal generative AI in creativity support tools. I enjoy developing co-creative interactive systems to support everyone in their everyday creative tasks.

Q: What research questions or issues do you hope to answer now?
I want to explore the role of generative AI models in future creativity support tools and build co-creative intelligent systems that support multimodal creativity, especially in the dimensions of audio and videos, as they are how we interact with the world. I also want to explore some theoretical questions, such as the overtrust/overreliance in AI, and see how we might understand and resolve them.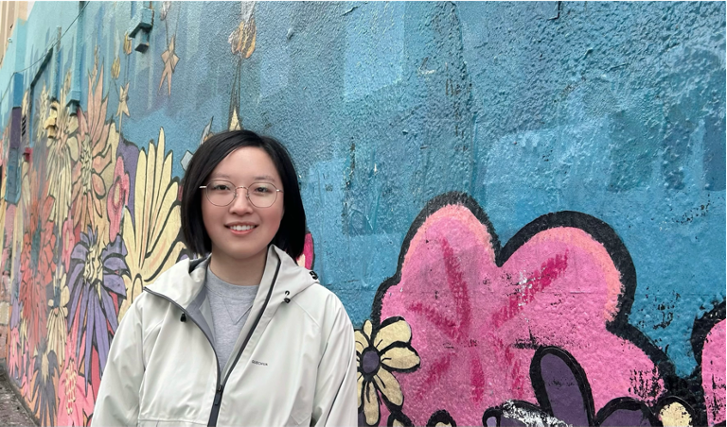 Q: Why did you choose to apply to Columbia CS? What attracted you to the program?
I love the vibrant environment of Columbia and NYC and how Columbia is strong in diverse disciplines, such as journalism, business, and law. It is an ideal place to do multi-disciplinary collaborative research.

Also, I got to know Professor Chilton well during my masters at Columbia. She is incredibly supportive and wonderful, and we share many common interests. That is why I chose to continue to work with her for my PhD journey.

Q: What has been the highlight of your time at Columbia?
The highlight would be when I witnessed the success of the students I mentored. It was such a rewarding process to guide and help undergraduate students interested in HCI research begin their journey.

Q: What is your advice to students on how to navigate their time at Columbia? If they want to do research, what should they know or do to prepare?
Enjoy your time in NYC! Please don't burn yourself out; learn how to manage your time efficiently. Don't be afraid to try new things—start with manageable tasks, but also step out of your comfort zone. You will have fun!
If you want to do research, find research questions that genuinely interest you and be prepared to face challenges. Most importantly, preserve and trust yourself and your collaborators. Your efforts will eventually pay off!