Bridging the Technology Gap
Students from diverse, nontraditional backgrounds can now take a one-year transition before entering the MS program in computer science.
The CS@CU MS Bridge Program in Computer Science launched this summer with students from a variety of backgrounds ranging from the sciences to architecture, economics, finance, and management. The 22 students have one thing in common – a desire to learn computer science (CS) to jump-start a career in technology.
This program offers prospective applicants from non-computer science backgrounds, including those without programming experience, the opportunity to acquire the knowledge and skills necessary to prepare them for the CS master's program. A year of rigorous "bridge" coursework is composed of introductory CS courses. This one-year transition prepares students for a seamless entrance into the MS program after the bridge year. The program is highly competitive with only 22 students accepted out of 88 applicants.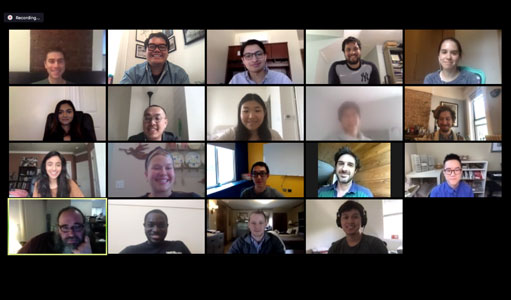 The main inspiration for the program is Northeastern's Align MS in Computer Science program. Columbia was one of a small number of schools which received seed funding from Facebook to help create bridge programs for students with diverse backgrounds at other universities.
"Unlike other similar programs, MS Bridge students start their program by taking the same core CS courses as our undergraduate students," said Tony Dear, a Lecturer in Discipline and the CS@CU MS Bridge Program Director. The cohort has access to the same instruction, resources, and interactions with other students who are starting CS for the first time. In addition, MS Bridge students are afforded as much flexibility as they need, taking anywhere from one to three or four courses per semester until they are ready to move on to the MS portion of the program.
Another goal of the program is to advance diversity in the master's program and this caught the attention of CS alum Janet Lustgarten (MS '85). "As a woman and an immigrant, I know how important it is to open up opportunities for different types of people," said Lustgarten. After emigrating from Colombia at a young age, she found the universal language of mathematics a gateway to excel in school. She went on to become the first graduate with a degree in Computer Science and Mathematical Logic from Mount Holyoke and then received her MS degree from Columbia Engineering. She has led an exceptional career as co-founder & CEO of Kx Systems and President of Shakti Software, making numerous contributions to science, engineering, business, and beyond. 
The Lustgarten-Whitney Family Fellowship was established specifically for the CS@CU MS Bridge Program. The generous gift provides fellowship support to three highly-qualified students from underrepresented and nontraditional backgrounds pursuing a career in computer science. Shared Lustgarten, "I hope that this gift from my family will play a vital role in launching the program, ensuring that the most qualified students are able to attend regardless of financial need, and inspiring a new generation of leaders in technology."
Students convened virtually in May and most are now in the thick of summer classes. About half of the group is interested in pursuing the software systems and machine learning tracks for their master's degree. Some have expressed interest in computational biology and natural language processing. A few already have plans to pursue a PhD afterward and they are interested in doing research and/or a thesis during the MS. Because there is flexibility when it comes to courses, this first cohort can explore and figure out the right path for their careers in technology.