Yaniv Erlich receives Young faculty Award from DARPA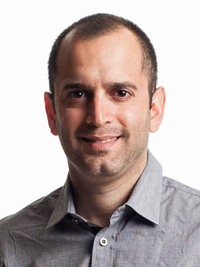 The Defense Advanced Research Projects Agency (DARPA) has awarded Yaniv Erlich a Young Faculty Award. The award, which identifies rising research stars in US academic institutions and introduces them to topics and issues of interest to the Department of Defense, will support Erlich's work on DNA storage technology.
An Assistant Professor of Computer Science and Computational Biology at Columbia University and a Core Member at the New York Genome Center, Erlich does research in many facets of computational human genetics. His lab works on a wide range of topics including developing compressed sensing approach to identify rare genetic variations, devising new algorithms for personal genomics, and using Web 2.0 information for genetic studies.
The award, which is for $1M, is in response to Erlich's proposal "Resistant and Scalable Storage Using Semi-synthetic DNA," which describes the use of an extended genetic alphabet to create DNA storage technology that is both immune to a broad range of interception methods and also boosts the information density of DNA storage. The proposal was submitted through Columbia's Data Science Institute, of which Erlich is also an affiliate.
Erlich's previous research has earned him several awards, including the Burroughs Wellcome Career Award (2013), Harold M. Weintraub award (2010), and the IEEE/ACM-CS HPC award (2008). In 2010, he was selected as one of Tomorrow's PIs team of Genome Technology.
Erlich holds B.Sc. in computational neuroscience from Tel-Aviv University and his Ph.D. in genomics and bioinformatics from Watson School of Biological Sciences, Cold Spring Harbor Laboratory in New York.
In February of this year, Erlich was named Chief Science Officer of MyHeritage Ltd.
Posted 10/12/2017
– Linda Crane