Steven Bellovin is this year's recipient of the ESORICS Outstanding Research Award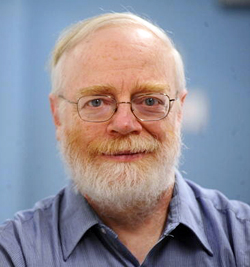 For the lasting impact of contributions in furthering the theory or development of secure systems, Steven M. Bellovin has been named the 2016 recipient of the Outstanding Research Award, which is bestowed annually by the European Symposium on Research in Computer Security (ESORICS).
The Percy K. and Vida L.W. Hudson Professor of Computer Science, Bellovin is a recognized security and network expert whose research, opinions and commentary regularly appear in academic and technical publications as well as prominent media outlets such as Wired and CNN.
Before coming to Columbia in 2005, Bellovin worked for more than 20 years at Bell Labs (and later AT&T Labs Research) where he was one of the first to recognize the importance of firewalls to network security and to explore protocol failures, discuss routing security, and utilize encrypted key exchange protocols. With William Cheswick, he wrote in 1994 the first book on firewalls (the best-selling Firewalls and Internet Security: Repelling the Wily Hacker). His most recent book is Thinking Security: Stopping Next Year's Hackers. He holds numerous patents on cryptographic and network protocols.
Bellovin has long been active in public policy questions involving security. Earlier this year he was appointed the first Technology Scholar to the Privacy and Civil Liberties Oversight Board and previously served as Chief Technologist of the Federal Trade Commission (2012-13). He is currently a member of the Computer Science and Telecommunications Board of the National Academies and has served on numerous National Academies study committees. In the past, he has been a member of the Science and Technology Advisory Committee of the Department of Homeland Security and the Technical Guidelines Development Committee of the Election Assistance Commission (2009-2012). Last month, he joined Verified Voting's board of advisors. He has previously held leadership positions in the Internet Engineering Task Force, including Security Area co-director (2002-2004); from 1996-2002, he was a member of the Internet Architecture Board.
The ESORICS award is his second in as many months. In August, Bellovin was awarded the Electronic Frontier Foundation's Pioneer Award. Among many previous other awards, he was elected to the Cybersecurity Hall of Fame (2014), earned an NIST/NSA National Computer Systems Security Award (2007) and the 1995 Usenix Lifetime Achievement ("The Flame") Award, which he received, along with Tom Truscott and Jim Ellis, for his part in creating USENET.