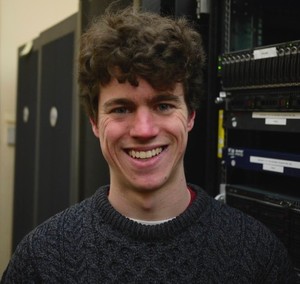 I am a computer science Ph.D. candidate at Columbia University working under Dr. Roxana Geambasu. I'm broadly interested in operating systems, distributed systems, security and privacy. I am supported by a Google Ph.D. Fellowship.
Publications
Mathias Lecuyer, Riley Spahn, Roxana Geambasu, Tzu-Kuo Huang, and Siddhartha Sen. ''Pyramid: Enhancing Selectivity in Big Data Protection with Count Featurization.'' In Proceedings of the IEEE Security and Privacy Symposium (IEEE S&P), San Jose, CA, May 2017.
Mathias Lecuyer, Riley B. Spahn, Giannis Spiliopoulos, Augustin Chaintreau, Roxana Geambasu, and Daniel Hsu. "Sunlight: Fine-grained Targeting Detection at Scale with Statistical Confidence." In Proceedings of the ACM Conference on Computer and Communications Security (CCS), Denver, Colorado, October 2015. Paper
Website
Riley Spahn, Jonathan Bell, Michael Z. Lee, Sravan Bhamidipati, Roxana Geambasu, and Gail Kaiser. "Fine-Grained Data Management Abstractions for Modern Operating Systems." In Proceedings of the USENIX Symposium on Operating System Design and Implementation (OSDI), Broomefield, CO, October 2014. Paper
Mathias Lecuyer, Guillaume Ducoffe, Francis Lan, Andrei Papancea, Theofilos Petsios, Riley Spahn, Augustin Chaintreau, and Roxana Geambasu. "XRay: Increasing the Web's Transparency with Differential Correlation." In Proceedings of the USENIX Security Symposium, San Diego, CA, August 2014. Paper
Lane Harrison, Riley Spahn, Mike Iannacone, Evan Downing and John Goodall. "NV: Nessus Vulnerability Visualization for the Web. In Proceedings of the Ninth International Symposium on Visualization for Cyber Security (VizSec), 2012.Paper
---
Experience
Google, Mountain View, CA (May 2014 - August 2014)
I worked as a software engineering intern on the Android platform security team to improve system access control. I moved much of the ad hoc access control into centralized and auditable SELinux Policy. Some of my contributions to AOSP were included in Lollipop.
Oak Ridge National Laboratory, Oak Ridge, TN (June 2011 - August 2011, May 2012 - December 2012)
I worked in the Cyberspace Science and Information Intelligence Research Group (CSIIR) with Erik Ferragut and John Goodall. I built distributed systems applications for log analysis and data analytics using the Storm framework and NodeJS. I also worked on a system call based anomaly detection system.
Auburn University, Auburn, AL (February 2011 - May 2012)
At Auburn I worked under Dr. Xiao Qin and Dr. Orlando Acevedo Under Dr. Acevedo I built a framework for molecular dynamics simulation framework parallelized using NVIDIA's CUDA architecture. In Dr. Qin's lab I worked on writing projects for a future Hadoop based distributed systems class.
---
Teaching
Course Manager - COMS W4156: Advanced Software Engineering, Columbia University (CVN), Summer 2015
Head TA - COMS W4156: Advanced Software Engineering, Columbia University, Fall 2014
Course Manager - COMS W4156: Advanced Software Engineering, Columbia University (CVN), Summer 2014
Course Manager - COMS W4156: Advanced Software Engineering, Columbia University (CVN), Spring 214
Head TA - COMS W4156: Advanced Software Engineering, Fall 2013
---
Education
Columbia University, Ph.D. Computer Science
Columbia University, M.S. Computer Science

January 2014 - February 2015

Auburn University, B.SE. Software Engineering