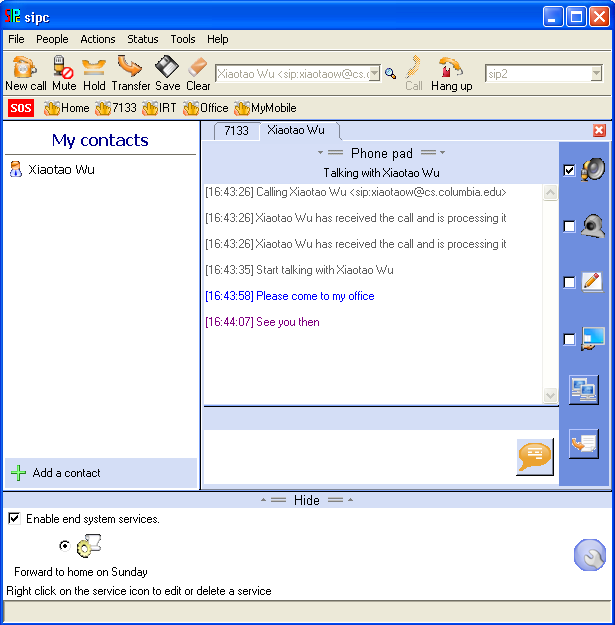 Columbia SIP User Agent (sipc)
sipc is a SIP user agent that can be used for Internet telephony calls. It supports a range of media types, such as audio, video, text, white board, desktop sharing, and can be extended easily to additional media types.
In addition to multimedia communications, sipc supports presence indication, instant messaging, networked appliance control, real-time multimedia streaming (RTSP), networked resource discovery (SLP), third-party call control, Internet TV (SAP), location sensing, and emergency call handling. It can also interact with email clients and web browsers. Multiple functions may interact with each other and introduce many new services that are otherwise impossible.
sipc handles communication services in a programmable way. It has a built-in service engine that can execute the Language for End System Services (LESS) scripts and SIP CGI scripts. sipc has a service creation environment that has a graphical service editor, and can automatically generate service scripts based on collected user communication behaviors. The service creation environment can also help users to handle feature interaction problems.
sipc can communicate with SIP redirect, proxy and registration servers such as sipd and other SIP user agents. It includes a user agent client which can send requests to SIP servers and a user agent server which handles incoming calls.
sipc runs on a range of platforms: Windows 95/98/NT/2000/XP, Linux and Solaris.
sipc does not provide audio and video functionality itself; rather, it uses external media application for handling media streams. Currently, it uses rat (Robust Audio Tool) as its audio application for both Unix and Windows version, vic as the video application, wb (for Unix) and wbd (for Windows) as white board application.