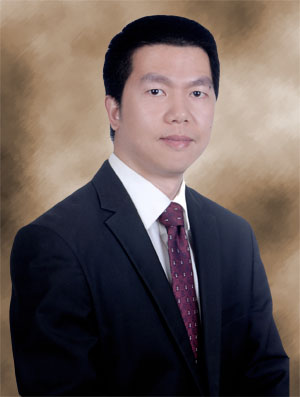 628 S.W. Mudd
Columbia University
In the City of New York

Phone: +1 212-854-6574
Fax: +1 212-854-6267
Email: charles@cs.columbia.edu

Charles Shen, PhD, EMBA
Research Scientist and Co-Director
RESEARCH
Dr. Shen has accumulated nearly two decades of interdisciplinary research experience in Computer Science, Electrical Engineering and Civil Engineering in the US and Asia. He is currently the Co-Director of the Advanced ConsTruction and InfOrmation techNology (ACTION) Laboratory at the Department of Civil Engineering and Engineering Mechanics of Columbia University. Prior to his current position, he worked as a Senior Member of Technical Staff at AT&T. Before joining AT&T, he had conducted research for various periods at Columbia University Department of Computer Science, IBM T.J. Watson Research Center, Telcordia Technologies (formerly Bell Communications Research, now part of Ericsson), Samsung Advanced Institute of Technology and Singapore's Institute for InfoComm Research (A*STAR).
Dr. Shen and his lab are leveraging cutting edge Information Technologies (IoT, AI, Blockchain etc.) to support sustainable urbanizations. He and his colleagues are building a data-driven city simulation platform aimed at better solving urban sustainability and resiliency, smart city management, and quality of life related problems. Over the past many years, Dr. Shen has also done extensive work on mobile computer networks and applications. His work on Internet multimedia signaling congestion control addressed the scalability issue critical to IP-based modern telecommunications networks; he also worked on cloud and IoT-based mobile services architecture as well as improving its security and privacy. His extended work in the Architecture, Engineering and Construction (AEC) industry covers topics such as integration of IoT sensor monitoring with Building Information Modeling (BIM), social impact project finance and Public-Private-Partnership (PPP). His research outcome has yielded 8 awarded and 3 pending US patents, several Internet Engineering Task Force (IETF) Internet standards and specifications, as well as numerous articles and technical reports, including on peer-reviewed publications at top journals and conferences sponsored by Association for Computing Machinery (ACM), Institute of Electrical and Electronic Engineers (IEEE), International Federation for Information Processing (IFIP) and American Society for Civil Engineers (ASCE).
Dr. Shen holds a Ph.D. degree in Electrical Engineering from Columbia University and an Executive MBA degree from Columbia Business School. He received his master's and bachelor's degrees in Computer and Electrical Engineering from National University of Singapore and Zhejiang University of China, respectively.