Daniel Bauer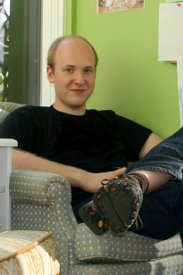 Contact Information
Columbia University
Center for Computational Learning Systems
Interchurch Center
(Room 850)
475 Riverside Drive MC 7717
New York, NY 10115
USA
e-Mail: β∀υ∃r (at) cs (dot) columbia (dot) edu
Office: 7LW3 Shapiro CEPSR
Phone: +1 (212) 870-1274

Currently, I am a Computer Science PhD Candidate at Columbia University in the City of New York where I am affiliated with the Natural Language Processing Group and the Center for Computational Learning Systems (CCLS). I work on the text2scene project in which we develop a system to automatically create 3D scenes from natural language descriptions. My PhD advisor is Owen Rambow.
Last summer (2012) I was an intern/visiting research assistant at
USC/ISI
, where I worked on semantics based machine translation. I am returning in 1012.
Previously, I have obtained a MSc degree in Language Science and Technology from Saarland University, Germany and a BSc degree in Cognitive Science from the University of Osnabrück, Germany.
Research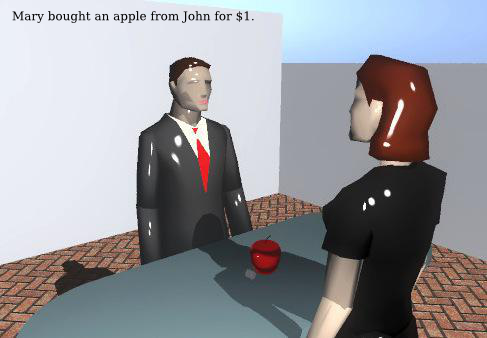 My current research is on semantic parsing of natural language into frame-based representations that can be grounded in semantic primitives. One application of this work is text-to-3D-scene-generation. I am interested in the relation between syntactic realization and semantic structure, as well as in the interpretation of semantic structure in context of 3D scenes and linguistic discourse. The aim of my research is to develop joint models that integrate these different levels of representation (syntax, semantics, graphics). More generally, I am interested in computational and lexical semantics, syntactic and semantic analysis in context, the syntax/semantics interface, and grammar formalisms.
My master's thesis was on statistical sentence generation with tree adjoining grammars.
Teaching
Spring 2012:
COMS W3101-3 - Programming Languages: Python
.
Fall 2011: TA for
COMS W4705 - Introduction to Natural Language Processing
(taught by Michael Collins).
News
On Mar 11 2013 I passed my PhD Candidacy Exam on Semantic Parsing.
I am now co-founder of
WordsEye
, a startup company taking text-to-scene generation to the social media market.
We are participating in the
IE@Columbia program
at the Columbia Business School.
Other things
I am the organizer of the NLP seminar series ( NLP meetings) at Columbia. Subscribe to the mailing list or contact me if you would like to present.
I'm a Graduate Student Advisory Council representative for the CS department.
In my spare time I enjoy cooking, playing my guitar, discovering New York City, hiking, traveling and taking photos.
I enjoy the company of the following other Columbia CS grad students (this is obviously an attempt to increase our Google rank, but I really do enjoy their company):
Arthi Ramachandran, Apoorv Agarwal, Bob Coyne, Vinod Prabhakaran